The Anti-Cancer Effect of Polyphenols against Breast Cancer and Cancer Stem Cells: Molecular Mechanisms
ABSTRACT
---
The high incidence of breast cancer in developed and developing countries, and its correlation to cancer-related deaths, has prompted concerned scientists to discover novel alternatives to deal with this challenge. In this review, we will provide a brief overview of polyphenol structures and classifications, as well as on the carcinogenic process. The biology of breast cancer cells will also be discussed. The molecular mechanisms involved in the anti-cancer activities of numerous polyphenols, against a wide range of breast cancer cells, in vitro and in vivo, will be explained in detail. The interplay between autophagy and apoptosis in the anti-cancer activity of polyphenols will also be highlighted. In addition, the potential of polyphenols to target cancer stem cells (CSCs) via various mechanisms will be explained. Recently, the use of natural products as chemotherapeutics and chemopreventive drugs to overcome the side effects and resistance that arise from using chemical-based agents has garnered the attention of the scientific community. Polyphenol research is considered a promising field in the treatment and prevention of breast cancer.
No MeSH data available.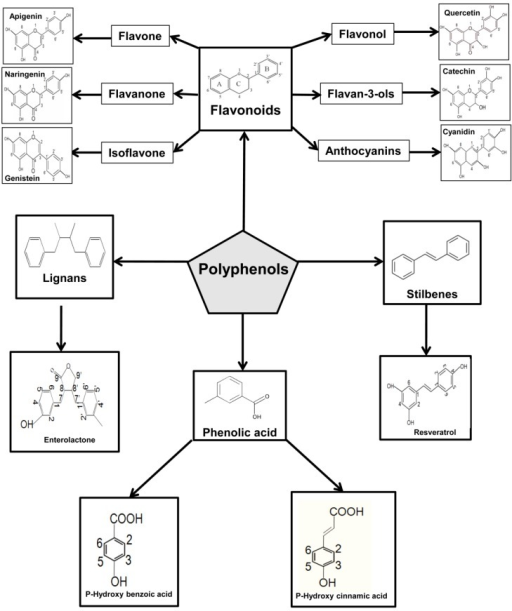 © Copyright Policy
License
getmorefigures.php?uid=PMC5037565&req=5
Mentions: Polyphenols, a broad category of natural compounds and plant metabolites, possess one, or numerous, benzene rings that bear one, or several, hydroxyl groups. They are considered to be complicated antioxidants that are abundantly present in our daily diet, in particular, they can be found in fruits, legumes, spices, cocoa, vegetable, coffee, nuts, beer, wine, and olive oil [54]. Average daily consumption of polyphenols is estimated to be around one gram [55]. In nature, polyphenols generally exist conjugated with organic acids and sugars, and, accordingly, can be classified into two main categories; flavonoids and non-flavonoids, as shown in Figure 2.