The Mediterranean Diet and Cognitive Function among Healthy Older Adults in a 6-Month Randomised Controlled Trial: The MedLey Study
ABSTRACT
---
Evidence from a limited number of randomised controlled intervention trials (RCTs) have shown that a Mediterranean dietary pattern may reduce the risk of cognitive decline and enhance cognitive function among healthy older adults. However, there are currently no data in non-Mediterranean older adult populations. The present study aimed to address this gap by examining the effect of a Mediterranean dietary pattern (MedDiet) for six months on aspects of cognitive function in a randomised controlled intervention trial (the MedLey study) that extended for a duration of 18 months. In the final analysed cohort, a total of 137 men and women (mean age of 72.1 ± 5.0 years) randomly assigned to either a MedDiet or control diet (HabDiet) (i.e., habitual dietary intake), were assessed on a comprehensive neuropsychological test battery, including 11 individual tests. In multivariable-adjusted models, the MedDiet group did not perform significantly better than the HabDiet control group for executive functioning (adjusted mean differences: +2.53, 95% CI −2.59 to 7.65, p = 0.33); speed of processing (adjusted mean differences: +3.24, 95% CI −1.21 to 7.70, p = 0.15); memory (adjusted mean differences: +2.00, 95% CI −3.88 to 7.88, p = 0.50); visual-spatial ability (adjusted mean differences: +0.21, 95% CI −0.38 to 0.81, 0.48); and overall age-related cognitive performance (adjusted mean differences: +7.99, 95% CI −4.00 to 19.9, p = 0.19). In conclusion, this study did not find evidence of a beneficial effect of a MedDiet intervention on cognitive function among healthy older adults.
No MeSH data available.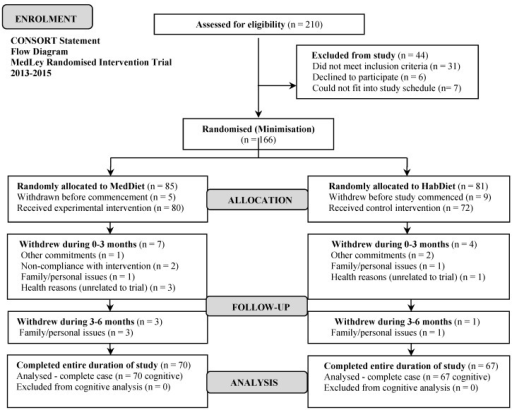 © Copyright Policy
License
getmorefigures.php?uid=PMC5037563&req=5
Mentions: In brief, a rolling recruitment generated an initial sample of 166 elderly South Australian men and women aged 65 years and above, with normal cognitive function and proficiency in English language. At the initial screening visit, each volunteer went through a detailed medical and neuropsychological history, along with having their height, weight and blood pressure measured, as well as providing a fasting blood sample for the examination of blood lipids, glucose and liver function. Additionally, each volunteer was screened for MCI and dementia using a psychometrically validated screening instrument; the DemTect [24]. Volunteers who had cognitive impairment or dementia (scores of <13 using the DemTect), or who exhibited other potential underlying health issues were excluded from the study and referred to their general practitioner for follow-up. Thus, from an initial 210 volunteers assessed for eligibility, 44 were excluded for reasons aforementioned, leaving 166 eligible participants to be randomised. An additional 14 participants withdrew before the intervention commenced. Eligible participants were assessed at three time points (baseline, 3 months and 6 months) at the Sansom Institute for Health Research, University of South Australia for the evaluation of age-related cognitive function and cardiometabolic outcomes. Across the duration of the intervention, three further participants withdrew as they found difficulty maintaining compliance with the study intervention, three due to other commitments, six due to personal/family issues, and four due to health reasons unrelated to the trial, leaving a total of 137 participants who completed the entire trial, and could be analyzed (see Figure 1).