Ginsenoside Rg5 Ameliorates Cisplatin-Induced Nephrotoxicity in Mice through Inhibition of Inflammation, Oxidative Stress, and Apoptosis
ABSTRACT
---
Although cisplatin is an effective anti-cancer agent that is widely used for treating various types of malignant solid tumors, the nephrotoxicity induced by cisplatin severely limits its clinical application. The present study was designed to explore the potential protective effect of ginsenoside Rg5, a rare ginsenoside generated during steaming ginseng, on cisplatin-induced nephrotoxicity in a mouse experimental model. The possible mechanisms underlying this nephroprotective effect were also investigated for the first time. Rg5 was given at doses of 10 and 20 mg/kg for 10 consecutive days. On Day 7, a single nephrotoxic dose of cisplatin (25 mg/kg) was injected to mice. Cisplatin administration resulted in renal dysfunction as evidenced by increase in serum creatinine (CRE) and blood urea nitrogen (BUN) levels. In addition, cisplatin increased the level of malondialdehyde (MDA) and 4-hydroxynonenal (4-HNE), the makers of lipid peroxidation, and depleted glutathione (GSH) content and superoxide dismutase (SOD) activity in renal tissues. These effects were associated with the significantly increased levels of cytochrome P450 E1 (CYP2E1), 4-hydroxynonenal (4-HNE), tumor necrosis factor (TNF)-α, interleukin (IL)-1β, nuclear factor-kappa B (NF-κB) p65, and cyclooxygenase-2 (COX-2) in renal tissues. However, pretreatment with ginsenoside Rg5 significantly attenuated the renal dysfunction, oxidative stress and inflammation response induced by cisplatin. Furthermore, ginsenoside Rg5 supplementation inhibited activation of apoptotic pathways through increasing Bcl-2 and decreasing Bax expression levels. Histopathological examination further confirmed the nephroprotective effect of Rg5. Collectively, these results clearly suggest that Rg5-mediated alleviation of cisplatin-induced nephrotoxicity may be related to its anti-oxidant, anti-apoptotic and anti-inflammatory effects.
No MeSH data available.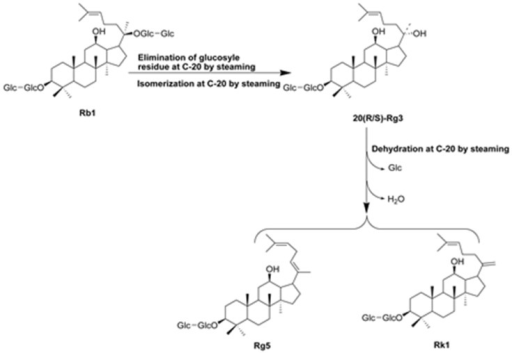 © Copyright Policy
License
getmorefigures.php?uid=PMC5037551&req=5
Mentions: The use of natural medicines in the prevention and treatment of acute kidney injury has gained considerable popularity. Among these medicines, ginseng (the roots of Panax ginseng Meyer), one of the famous Chinese herbal medicines widely used in China, is particularly well-studied [9,10,11,12,13]. Ginsenosides, the major active components in ginseng, possess many pharmacological activities including anti-diabetes, anti-cancer, and anti-inflammation [14,15]. Accumulating evidence indicated that the pharmacological and biological activities of steam-activated ginseng (Red ginseng and Black ginseng) are greater than those of non-steamed ginseng (White ginseng) [16]. Steaming process could cause extensive conversion of ginsenosides in non-steamed ginseng to new less polar degradation ones (Rg3, Rg5, Rk1, Rz1, F4, Rg6, etc.) [17,18]. Ginsenoside Rg5 (Figure 1), a major rare saponin generated during steaming treatment of ginseng, has been shown to exert many pharmacological activities, including anti-inflammation [19,20], anti-cancer [21], anti-dermatitis [22], and memory enhancement [23]. A more recent study suggested that ginseng with microwave-assisted processing (mainly including Rg3, Rg5, and Rk1) exhibited protective effect on cisplatin-induced cytotoxicity in LLC-PK1 renal epithelial cells by regulating inflammation and apoptosis [24]. In addition, Rg5+Rk1 complex were found to significantly ameliorate cisplatin-induced reduction in cell viability. However, there have been no studies to evaluate the protective effect of individual ginsenoside (Rg5 or Rk1) against cisplatin-induced nephrotoxicity in mouse experimental model. Although they are one pair of isomeric ginsenosides, more ginsenoside Rg5 was generated from steamed ginseng than Rk1 using chemical analysis [17]. In addition, ginsenoside Rg5 was easily isolated and purified than Rk1 due to its high contents.