The Anticancer Properties of Herba Epimedii and Its Main Bioactive Componentsicariin and Icariside II
ABSTRACT
---
Cancer is one of the leading causes of deaths worldwide. Compounds derived from traditional Chinese medicines have been an important source of anticancer drugs and adjuvant agents to potentiate the efficacy of chemotherapeutic drugs and improve the side effects of chemotherapy. HerbaEpimedii is one of most popular herbs used in China traditionally for the treatment of multiple diseases, including osteoporosis, sexual dysfunction, hypertension and common inflammatory diseases. Studies show HerbaEpimedii also possesses anticancer activity. Flavonol glycosides icariin and icariside II are the main bioactive components of HerbaEpimedii. They have been found to possess anticancer activities against various human cancer cell lines in vitro and mouse tumor models in vivo via their effects on multiple biological pathways, including cell cycle regulation, apoptosis, angiogenesis, and metastasis, and a variety of signaling pathways including JAK2-STAT3, MAPK-ERK, and PI3k-Akt-mTOR. The review is aimed to provide an overview of the current research results supporting their therapeutic effects and to highlight the molecular targets and action mechanisms.
No MeSH data available.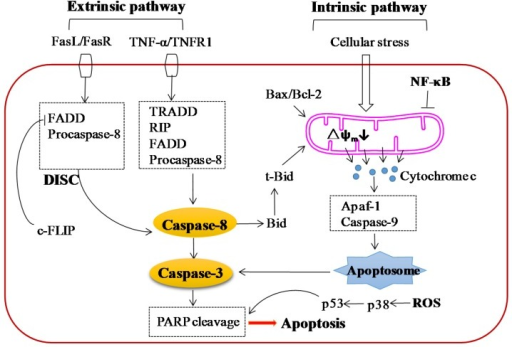 © Copyright Policy
License
getmorefigures.php?uid=PMC5037548&req=5
Mentions: It is well established that there are two main apoptotic pathways: The extrinsic (receptor mediated) and the intrinsic (mitochondrial mediated) signaling pathway (Figure 4). The extrinsic signaling pathway is initiated by the ligation of ligands and corresponding death receptors of the tumor necrosis factor (TNF) receptor subfamily, such as FasL/FasR and TNF-α/TNFR1 [80]. The formation of death-inducing signaling complex (DISC) leads to the autocatalytic activation of procaspase-8 [81]. The intrinsic apoptotic pathway is triggered by cellular stress factors including the negative signals involving the absence of some growth factors, hormones and cytokines and positive signals, including radiation, toxins, hypoxia, viral infections, and free radicals. These stimuli at on the mitochondrial membrane and result in change of themitochondrial permeability transition (MPT), loss of the mitochondrialtransmembrane potential and release of the pro-apopto ticproteins such as cytochrome c and apoptosis inducing factor (AIF) from mitochondria into the cytosol [82]. The released cytochrome c activates Apaf-1 and procaspase-9, resulting in the formation of apopto some [83]. The mitochondrial mediated apoptotic pathway is regulated by the members of the Bcl-2 family proteins [84], which are reported to be implicated with the tumor suppressor protein p53 and comprise two groups of proteins with the opposite function, the anti-apoptotic proteins (e.g., Bcl-2, Bcl-x and Bcl-xL) and the pro-apoptotic proteins (e.g., Bax, Bid, Bak, Bim and Bik) [85]. The extrinsic pathway can be linked with the intrinsic pathway through caspase-8 by inducing the activation of Bid, in turn, acting on the mitochondrial membrane leading to the release of cytochrome c (Figure 4) [86].