Reaching Low-Income Mothers to Improve Family Fruit and Vegetable Intake: Food Hero Social Marketing Campaign — Research Steps, Development and Testing
ABSTRACT
---
The objective of this study was to create/test a social marketing campaign to increase fruit/vegetable (FV) intake within Oregon Supplemental Nutrition Assistance Program (SNAP) eligible families. Focus groups (n = 2) and pre/post campaign phone surveys (n = 2082) were conducted in intervention counties (IC) and one control county. Participants were female (86%–100%) with 1–2 children at home. Mean FV intake/without juice was 3.1 servings/day; >50% preferred the Internet for delivery of healthy eating information. Participants reported time/financial burdens, low household FV variety and desirability of frozen/canned FV, and acceptance of positive messages. A Food Hero (FH) campaign was created/delivered daily August–October 2009 to mothers through multiple channels (e.g., grocery stores, online, educators). Results showed that the IC had better FH name recall (12%) and interpretation of intended messages (60%) vs. control (3%, 23%, respectively). Compared to controls, the IC were less likely to report healthy food preparation as time consuming or a FV rich diet expensive, and it was easier to get their family to eat fruit. Results did not vary based on county/household characteristics. The FH campaign increased FH awareness and positive FV beliefs. A longer campaign with FV assessments will increase understanding of the target audience, and allow for campaign refinement.
No MeSH data available.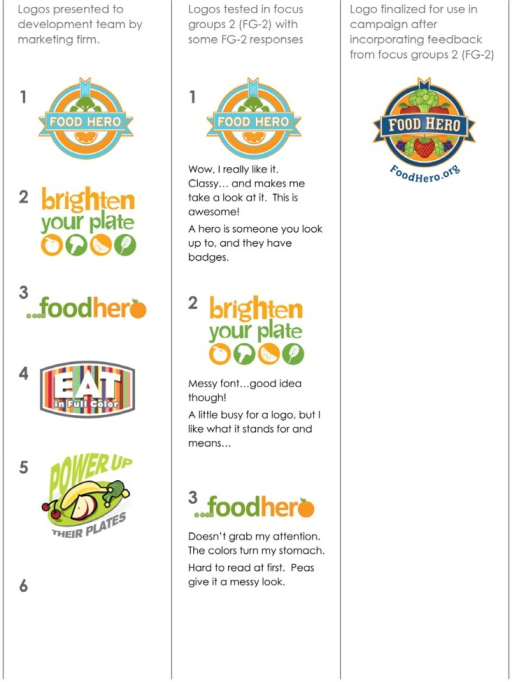 © Copyright Policy
License
getmorefigures.php?uid=PMC5037547&req=5
Mentions: All research was conducted with SNAP participants in select Oregon counties. The timeline and steps of the research and campaign development are outlined in Figure 1. Pre-campaign research included conducting FGs (Step 1: FG-1; n = 25 participants), which were used to help design a pre-campaign PS, including FV belief and barrier questions (Step 2: PS-1; n = 1244 participants). The PS's also included the validated BRFSS FV questions to assess FV intake [21]. In addition, the FGs provided information related to health priorities, beliefs and experiences. Using the results from FG-1 and PS-1, Step 3 developed the campaign, including creating draft campaign names, logos, messages and delivery channels (Figure 2 and Table 1). Key components of the SCT aligned with the FG-1 and PS-1 results; thus, the SCT was used to inform campaign development/implementation (Steps 3–6). As second set of FGs (Step 4: FG-2, n = 11) were used to test messages and components of the developed campaign. In Step 5, final campaign materials and delivery channels were determined/created and then implemented in Step 6. The campaign was delivered through multiple channels, including a web site, direct mail, billboards, web banner ads, grocery store demonstrations, grocery cart ads, and county SNAP-Ed educators delivering the campaign using Food Hero Community Kits [22]. The community kits were designed to provide locally adaptable campaign tools and materials for OSU's Extension county educators and their partners. The goal of the community kit was to assure that comprehensive educator/partner Food Hero promotion occurred concurrently with other campaign communication channels. Public relations efforts throughout the campaign included television and radio interviews, a family video makeover contest, and social media postings (i.e., YouTube and Facebook). The Food Hero social media project is described elsewhere [23]. Due to the time left in the project funding cycle, the campaign could only run for 2-months. Near the end of the campaign, a second PS was conducted to test for campaign awareness and FV beliefs, and to gain further insights for future campaign development (Step 7: PS-2; n = 802).