Anticancer Efficacy of Polyphenols and Their Combinations
ABSTRACT
---
Polyphenols, found abundantly in plants, display many anticarcinogenic properties including their inhibitory effects on cancer cell proliferation, tumor growth, angiogenesis, metastasis, and inflammation as well as inducing apoptosis. In addition, they can modulate immune system response and protect normal cells against free radicals damage. Most investigations on anticancer mechanisms of polyphenols were conducted with individual compounds. However, several studies, including ours, have indicated that anti-cancer efficacy and scope of action can be further enhanced by combining them synergistically with chemically similar or different compounds. While most studies investigated the anti-cancer effects of combinations of two or three compounds, we used more comprehensive mixtures of specific polyphenols and mixtures of polyphenols with vitamins, amino acids and other micronutrients. The mixture containing quercetin, curcumin, green tea, cruciferex, and resveratrol (PB) demonstrated significant inhibition of the growth of Fanconi anemia head and neck squamous cell carcinoma and dose-dependent inhibition of cell proliferation, matrix metalloproteinase (MMP)-2 and -9 secretion, cell migration and invasion through Matrigel. PB was found effective in inhibition of fibrosarcoma HT-1080 and melanoma A2058 cell proliferation, MMP-2 and -9 expression, invasion through Matrigel and inducing apoptosis, important parameters for cancer prevention. A combination of polyphenols (quercetin and green tea extract) with vitamin C, amino acids and other micronutrients (EPQ) demonstrated significant suppression of ovarian cancer ES-2 xenograft tumor growth and suppression of ovarian tumor growth and lung metastasis from IP injection of ovarian cancer A-2780 cells. The EPQ mixture without quercetin (NM) also has shown potent anticancer activity in vivo and in vitro in a few dozen cancer cell lines by inhibiting tumor growth and metastasis, MMP-2 and -9 secretion, invasion, angiogenesis, and cell growth as well as induction of apoptosis. The presence of vitamin C, amino acids and other micronutrients could enhance inhibitory effect of epigallocatechin gallate (EGCG) on secretion of MMPs. In addition, enrichment of NM with quercetin (EPQ mix) enhanced anticancer activity of NM in vivo. In conclusion, polyphenols, especially in combination with other polyphenols or micronutrients, have been shown to be effective against multiple targets in cancer development and progression, and should be considered as safe and effective approaches in cancer prevention and therapy.
No MeSH data available.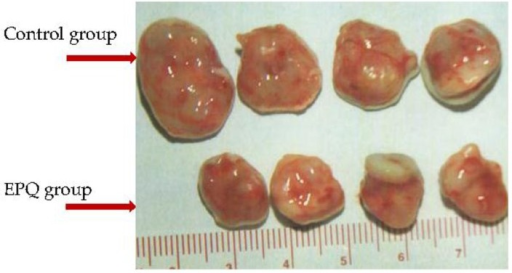 © Copyright Policy
License
getmorefigures.php?uid=PMC5037537&req=5
Mentions: Epithelial ovarian carcinoma is the leading cause of death from gynecological malignancy due to metastasis and recurrence. Our previous publication on athymic female mice inoculated with ES-2 ovarian cancer cells showed that dietary intake of EPQ (0.5%, w/w) inhibited weight and burden of tumors by 59.2% (p < 0.0001) and 59.7% (p < 0.0001), respectively [109] (see Figure 1). A subsequent study on ovarian carcinoma used IP injection of ovarian cancer A-2780 cells into athymic female mice and focused on ovarian tumor growth and lung metastasis [110]. In the A-2780 study, all Control mice developed large ovarian tumors, whereas five out of six mice in the EPQ group developed no tumors, and one, only a small tumor [110]. EPQ suppressed tumor growth by 87% (p < 0.0001). In addition, all animals in the Control group had lung metastasis while, in contrast, no metastasis was observed in the EPQ group of mice [110]. In vitro, the effects of EPQ on cell proliferation, MMP secretion, invasion through Matrigel, migration by scratch test and morphology were evaluated in ES-2 [109] and A2780 [110] cells. EPQ exhibited 35% toxicity over the control in ES-2 cells [109] and 80% in A-2780 cells [110] at 1000 µg/mL concentration. ES-2 cells demonstrated only MMP-2, with and without PMA, which was inhibited by EPQ in a dose dependent fashion, with near total inhibition at 1000 µg/mL [109]. A-2780 cells demonstrated only MMP-9 expression, which EPQ inhibited in a dose dependent fashion, with virtual total block at 250 μg/mL concentration [110]. Migration of ES-2 cells by scratch test and invasion through Matrigel were inhibited in a dose dependent manner with total block of invasion and migration at 500 µg/mL [109]. Invasion through Matrigel of A-2780 cells was completely inhibited by EPQ at 250 µg/mL [110]. H&E staining showed no morphological changes below 500 μg/mL EPQ in A-2780 cells [110] and below 1000 μg/mL EPQ in ES-2 cells [109]. See Table 4 for summary of results.