An Assessment of the Potential Impact of Fortification of Staples and Condiments on Micronutrient Intake of Young Children and Women of Reproductive Age in Bangladesh
ABSTRACT
---
Bangladesh has experienced rapid economic growth and achieved major health improvements in the past decade, but malnutrition rates remain high. A nationally representative study conducted in 2011 assessed the dietary habits of 841 children 24–59 months old, 1428 children 6–14 years old, and 1412 nonpregnant, nonlactating women. The study's objective was to assess dietary intakes of key micronutrients and the consumption pattern of potentially fortifiable foods, and then to model the potential impact of the fortification of key staple foods. The current intakes of several micronutrients—namely, iron, zinc, folate, vitamin A, and vitamin B12—were found to be insufficient to meet the needs of Bangladesh's children and women. The fortification of rice with iron and zinc and edible oil with vitamin A has the potential to fill a significant part of the nutrient gap, as these are consumed widely and in significant amounts. Wheat flour and sugar are not as promising food vehicles in the Bangladeshi context, as they were consumed by a smaller portion of the population and in smaller amounts. In conclusion, fortification of rice and oil is recommended to address the large gap in micronutrient intakes.
No MeSH data available.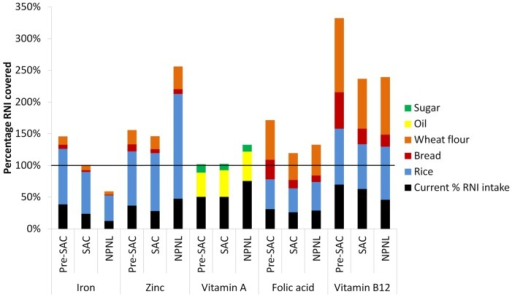 © Copyright Policy
License
getmorefigures.php?uid=PMC5037528&req=5
Mentions: Based on mean level of consumption and recommended fortification levels, the additional intakes of iron, zinc, folic acid, and vitamin B12 (Table 5), and vitamin A (Table 6) in case of fortification of all five foods were calculated, and the total percentage of RNI covered is reported in Figure 2. Moreover, based on the upper 95% consumption level and micronutrient intake, the estimated percentage of upper limit (UL) reached from multiple food fortification is reported in Figure 3. The estimated maximum total iron intake after fortification of rice, bread, and wheat flour ranges between 18.9 mg/day and 38.9 mg/day, depending on the target population, and stays below the upper level (40 mg/day) set by the WHO [6]. Zinc intakes could rise to 15.4 mg/day for pre-SAC, 22.0 mg/day for SAC, and 29.3 mg/day for NPNL, which is above the WHO upper level for pre-SAC (7–12 mg/day) and within the upper limits for SAC (12–23 mg/day), below the upper limits for NPNL (45 mg/day). The total maximum intakes of folic acid remain below the age-group-specific ULs (i.e., 300–400 µg/day for pre-SAC; 400–600 µg/day for SAC; and 1000 µg/day for adults). The total maximum intakes of folic acid also stay below the age-group-specific ULs (i.e., 300–400 µg/day for pre-SAC; 400–600 µg/day for SAC; and 1000 µg/day for adults). The additional vitamin A intake would be far below the upper levels for NPNL (3000 RE/day) and SAC (900–1700 RE/day); however, it is slightly too high for pre-SAC (700 RE/day).