Effect of a Nutritional Intervention in Athlete ' s Body Composition, Eating Behaviour and Nutritional Knowledge: A Comparison between Adults and Adolescents
ABSTRACT
---
The objective of the present study is to evaluate and compare the effect of a nutritional intervention between adolescent and adult. In a before and after quasi-experimental clinical study, 32 athletes (21 adults, age range 20–32 years; 11 adolescents, age range: 12–19 years) participated in a nutritional counselling consisting of four consultations separated by an interval of 45 to 60 days. The athlete's eating behaviour, body composition and nutrition knowledge were evaluated at the beginning and at the end of the protocol. Both groups increased lean body mass and nutritional knowledge. Adolescents increased their mid-arm muscle circumference and improved meal frequency, and daily water intake. Athletes of both groups improved their ingestion of vegetables and fruits and decreased the ingestion of sweets and oils. Adolescents showed a higher prevalence of individuals that remained within or approached to the recommendations of sweets. This is the first study to evaluate and compare the effect of a nutritional intervention between adolescent and adult athletes body composition, eating behaviour and nutritional knowledge. The nutritional counselling has been effective in promoting beneficial changes on the athlete's eating behaviour, nutritional knowledge and body composition, however, some healthy changes were only experienced by adolescents, especially in the frequency of meals and the intake of sweets.
No MeSH data available.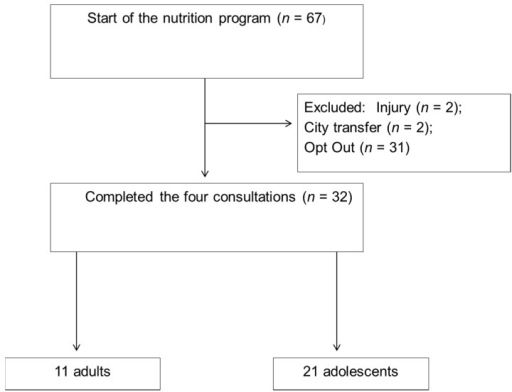 © Copyright Policy
License
getmorefigures.php?uid=PMC5037522&req=5
Mentions: After checking the inclusion and exclusion criteria, 67 athletes were eligible to participate in the research. Of these, only 32 athletes completed the four-consultation protocol. The reasons for attrition, as well as the description of the final sample are at Figure 3. The participants were 32 athletes of the following sports: fighting (boxing, taekwondo, karate, judo, jiu-jitsu, capoeira, and wrestling, n = 16), athletics (n = 3), cycling (n = 1), swimming (n = 6), tennis (n = 2), beach volleyball (n = 1), surfing (n = 1), rowing (n = 1) and sailing (n = 1). The sample consisted of 21 adolescents (65.6%, age range: 12–19 years) and 11 adults (34.4%, age range: 20–32 years), with a mean age of 15.4 years (SE: 0.35) and 23.7 years (SE: 0.53), respectively. All of the adults were male, while six adolescents (28.6%) were female and 15 were male (71.4%). There was no difference in the results when they were analysed without the female athletes; thus, they were included. The adolescents and the adults had an average of 12.8 (SE: 1) h and 16.2 (SE: 1.2) h of training per week, respectively.