A Tricky Trait: Applying the Fruits of the " Function Debate " in the Philosophy of Biology to the " Venom Debate " in the Science of Toxinology
ABSTRACT
---
The "function debate" in the philosophy of biology and the "venom debate" in the science of toxinology are conceptually related. Venom systems are complex multifunctional traits that have evolved independently numerous times throughout the animal kingdom. No single concept of function, amongst those popularly defended, appears adequate to describe these systems in all their evolutionary contexts and extant variations. As such, a pluralistic view of function, previously defended by some philosophers of biology, is most appropriate. Venom systems, like many other functional traits, exist in nature as points on a continuum and the boundaries between "venomous" and "non-venomous" species may not always be clearly defined. This paper includes a brief overview of the concept of function, followed by in-depth discussion of its application to venom systems. A sound understanding of function may aid in moving the venom debate forward. Similarly, consideration of a complex functional trait such as venom may be of interest to philosophers of biology.
No MeSH data available.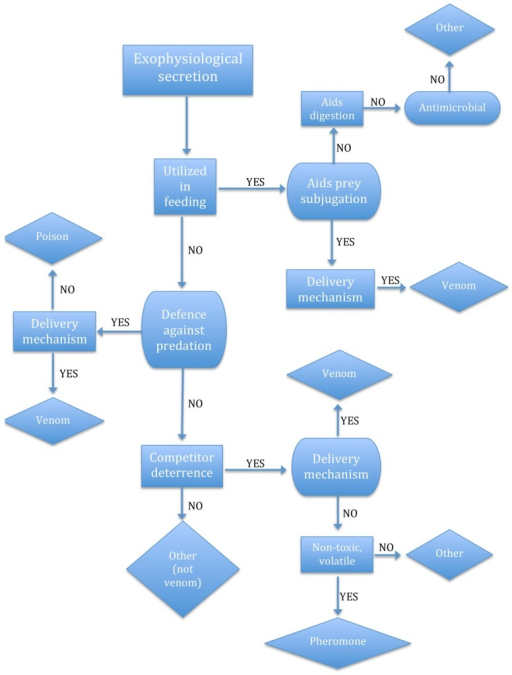 © Copyright Policy
License
getmorefigures.php?uid=PMC5037489&req=5
Mentions: Applying the causal role theory of function to a secretion would suggest that whatever the effect of that secretion, if it contributed to the furthering of some specific goal of the organism, that effect would be its function. Venom is a secretion that is considered to be an adaptation for feeding, defence, or competitor deterrence. At first glance then, the causal role theory seems suitable for describing the function—if the secretion furthers the goal of feeding, defence, or competitor deterrence, then it is venom. But it's not this simple, unfortunately. Secretory enzymes may further the goal of feeding by aiding digestion, but these are not venoms. Toxic skin secretions may deter predators, but these are poisons, not venoms. Pheromones may deter competitors, but these are not venoms either. In order to qualify as venom (Figure 2), a secretion must be associated with a venom delivery system—a specialised mechanism, the function of which is to deliver venom (note that venom is a specialised form of poison, i.e., poison that is actively delivered). This may seem circular—it is difficult to define venom without defining the venom delivery system and impossible to define the venom delivery system without defining venom. It makes more sense, therefore, to consider the "venom system" as a whole, and not try to define each component separately.