Discovery of Novel Bacterial Cell-Penetrating Phylloseptins in Defensive Skin Secretions of the South American Hylid Frogs, Phyllomedusa duellmani and Phyllomedusa coelestis
ABSTRACT
---
Phylloseptin (PS) peptides, derived from South American hylid frogs (subfamily Phyllomedusinae), have been found to have broad-spectrum antimicrobial activities and relatively low haemolytic activities. Although PS peptides have been identified from several well-known and widely-distributed species of the Phyllomedusinae, there remains merit in their study in additional, more obscure and specialised members of this taxon. Here, we report the discovery of two novel PS peptides, named PS-Du and PS-Co, which were respectively identified for the first time and isolated from the skin secretions of Phyllomedusa duellmani and Phyllomedusa coelestis. Their encoding cDNAs were cloned, from which it was possible to deduce the entire primary structures of their biosynthetic precursors. Reversed-phase high-performance liquid chromatography (RP-HPLC) and tandem mass spectrometry (MS/MS) analyses were employed to isolate and structurally-characterise respective encoded PS peptides from skin secretions. The peptides had molecular masses of 2049.7 Da (PS-Du) and 1972.8 Da (PS-Co). They shared typical N-terminal sequences and C-terminal amidation with other known phylloseptins. The two peptides exhibited growth inhibitory activity against E. coli (NCTC 10418), as a standard Gram-negative bacterium, S. aureus (NCTC 10788), as a standard Gram-positive bacterium and C. albicans (NCPF 1467), as a standard pathogenic yeast, all as planktonic cultures. Moreover, both peptides demonstrated the capability of eliminating S. aureus biofilm.
No MeSH data available.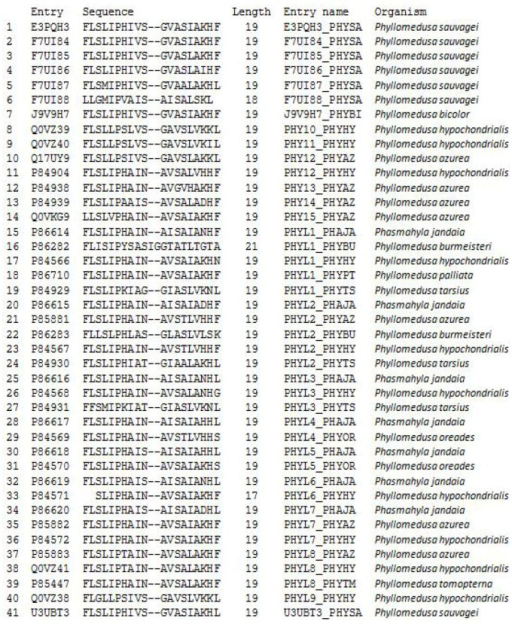 © Copyright Policy
License
getmorefigures.php?uid=PMC5037481&req=5
Mentions: In this study, two novel phylloseptin peptides, named PS-Du and PS-Co, from the skin secretions of Phyllomedusa duellmani and Phyllomedusa coelestis, respectively, were discovered. Since Leite reported the prototype phylloseptin in 2005, more than 40 novel phylloseptin (PS) peptides with highly-conserved amino acid sequences from the skin secretions of phyllomedusine leaf frogs, have been discovered [14,15,16,17,18,33]. According to the records in the Uniprot database (The Uniprot Consortium), PS peptides show some common characteristics with the presence of an n-terminal Phe residue, a Pro residue at position 6, a His residue at position 7 and a variable amidated C-terminal residue. Most of their primary structural characteristics are highly-conserved such as the n-terminal hexapeptide, FLSLIP- (Figure 13). Some phylloseptins possess different amino acids within this hexapeptide region with Leu and Ser residues replaced by Ile and Gly, respectively. This is a common phenomenon occurring in discrete peptide families among amphibian species. The different isoforms within peptide families provide useful phylogenetic information on the genetic mutations which have occurred during speciation, offering great benefits for the species to increase the survival capabilifrom cruel natural selection. Here, the encoded cDNAs isolated from Phyllomedusa duellmani and Phyllomedusa coelestis, proved to be highly-conserved.