A Novel Population of Fusarium fujikuroi Isolated from Southeastern U.S. Winegrapes Reveals the Need to Re-Evaluate the Species ' Fumonisin Production
ABSTRACT
---
Mycotoxins pose a challenge to a safe food supply worldwide, and their threat is expected to worsen with our changing climate. The need for diligence is exemplified by the discovery of fumonisin B2 in wine, which joins ochratoxin A as a mycotoxin of concern in the grape-wine chain. To elucidate the mycotoxin risk in southeastern American wine, grape samples were collected from vineyards during harvest in 2013 and potentially mycotoxigenic fungi (Fusarium and Aspergillus) were isolated from the samples. Numerous Fusarium isolates were recovered and identified to the species level by comparison of translation elongation factor 1-α gene sequences to verified strains. Fusariumfujikuroi was the most abundant species recovered (239 isolates), followed by F. proliferatum (52), F. incarnatum-equiseti (14), F. oxysporum (7), F. concentricum (1), and F. solani (1). In vitro assays quantified fumonisin production for representative isolates via liquid chromatography-tandem mass spectrometry. Surprisingly, nearly all F. fujikuroi isolates produced fumonisins B1, B2, and B3 at levels comparable to both the F. proliferatum isolates and the positive control, Fusariumverticillioides. Such capacity for fumonisin production refutes the generally accepted notion that F.fujikuroi produces undetectable or low levels of fumonisins and provides evidence to reconsider this species as a mycotoxigenic threat to economically significant crops.
No MeSH data available.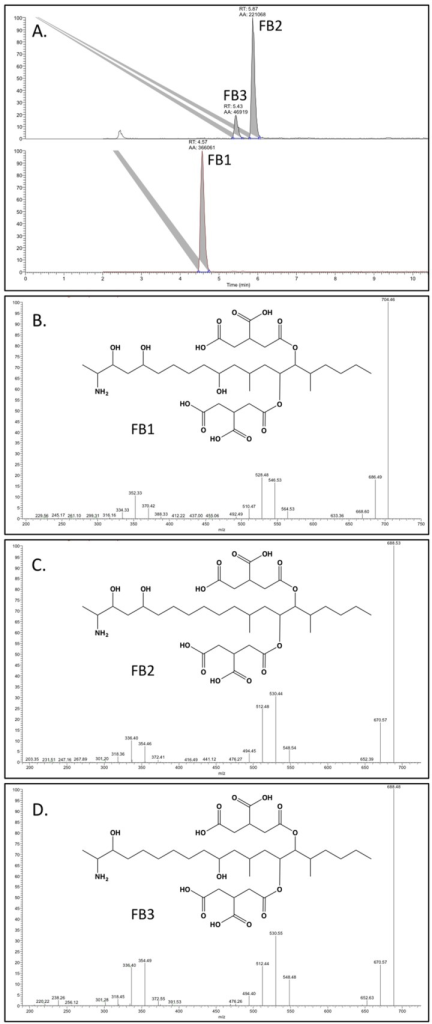 © Copyright Policy
License
getmorefigures.php?uid=PMC5037480&req=5
Mentions: Following the incubation period on rice, 10 mL of a 1:1 acetonitrile (HPLC grade, Fisher, Fair Lawn, NJ, USA): distilled water extraction solution containing 5% formic acid (~98%, Sigma-Aldrich, St. Louis, MO, USA) was added to each vial. Samples were vigorously shaken and frozen to −20 °C for at least 10 h. Prior to LC-MS/MS analysis for fumonisins, rice cultures were broken apart and vials were rocked for 3 h (The Belly Dancer®, speed 6.5, Stovall Life Science, Inc., Greensboro, NC, USA) to extract any fumonisins. The resulting extraction solution was centrifuge-filtered (costar® Spin-X HPLC Micro Centrifuge Filter, 0.45 µm, nylon, Corning Inc., Corning, NY, USA), diluted (up to 10,000 fold), and analyzed via LC-MS/MS (Thermo LTQ XL). All analyses were multiple reaction monitoring (MRM) performed in positive ion mode, and the instrument was tuned using FB1 (PROMEC, Tygerberg, South Africa). An Imtakt Cadenza CW-C18 column (150 × 2 mm, 3 µm; Kyoto, Japan), maintained at 30 °C, was used for separations. Solvent A was distilled water with 3% acetonitrile plus 0.1% formic acid, and solvent B was acetonitrile with 3% distilled water plus 0.1% formic acid. The solvent program began at 30:70 A:B, and increased linearly to 100% B over 9 min, held at 100% B for 2 min, and then returned to starting conditions. Samples were run along with a blank control and standard solutions of fumonisins B1, B2, and B3 (1 ppb, 10 ppb, and 100 ppb in 30:70 acetonitrile:distilled water plus 0.1% formic acid; PROMEC, Tygerberg, South Africa). Analytes were identified by retention time, as compared to standards, and fragmentation patterns (Figure 1). Levels of fumonisins were quantified by external calibration of peak areas (the MS/MS total ion current) with standards, and a new calibration curve (limit of quantification (LOQ) = 0.045 ppb and limit of detection (LOD) = 0.013 ppb) was run with each sample set. Fumonisin amounts were reported as µg toxin per gram of dried rice (ppm).