Sanguisorba officinalis L synergistically enhanced 5-fluorouracil cytotoxicity in colorectal cancer cells by promoting a reactive oxygen species-mediated, mitochondria-caspase-dependent apoptotic pathway
ABSTRACT
---
Sanguisorba officinalis L. radix is a widely used herb called DiYu (DY) in China and has an extensive range of bioactivities, including anti-cancer, anti-inflammatory, and anti-oxidative activities. However, there is little evidence to support its anti-cancer effects against colorectal cancer (CRC). The first-line chemotherapeutic agent 5-fluorouracil (5-FU) is used to treat CRC, but its efficiency is hampered by acquired drug resistance. This study found that a water extract of DY exerted anti-proliferative effects against two CRC cell lines (HCT-116 and RKO), and it sensitized CRC cells to 5-FU therapy by activating a reactive oxygen species (ROS)-mediated, mitochondria-caspase-dependent apoptotic pathway. Co-treatment of DY and 5-FU significantly elevated ROS levels, up-regulated Bax/Bcl-2 ratio and triggered mitochondrial dysfunction, followed by a release of cytochrome c and up-regulation of proteins such as cleaved-caspase-9/3 and cleaved-PARP. Additionally, the induction of autophagy may be involved in mediating synergism of DY in HCT-116 cells. Gallic acid (GA), catechinic acid (CA) and ellagic acid (EA) were identified as the potential chief constituents responsible for the synergistic effects of DY. In conclusion, co-treatment of DY, specifically GA, CA and EA, with 5-FU may be a potential alternative therapeutic strategy for CRC by enhancing an intrinsic apoptotic pathway.
No MeSH data available.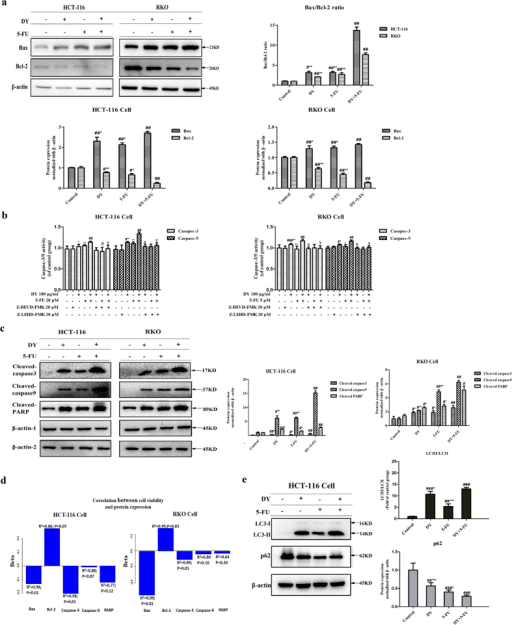 © Copyright Policy - open-access
License
getmorefigures.php?uid=PMC5037464&req=5
Mentions: Mitochondrial dysfunction is often involved in the mitochondrial/intrinsic apoptosis pathway. Bax and Bcl-2 play critical roles in regulating intrinsic apoptosis. In this study, we measured the expression levels of the pro-apoptotic protein Bax and anti-apoptotic protein Bcl-2. Notably, the combined treatment significantly increased the Bax protein, while decreased the Bcl-2 protein in both cell lines (Fig. 4a and Supplementary Fig. S4d). Based on a significant increase of Bax/Bcl-2 ratios, as well as the release of mitochondrial cytochrome c to cytosol, the caspase-dependent apoptosis pathway may be activated. So the activities of caspase-9 and caspase-3 were then evaluated. Data reveal that the initiator caspase-9, as well as its downstream executioner caspase-3 were activated in both cell lines following the combination treatments (Fig. 4b), which was also confirmed by western blot assays (Fig. 4c, Supplementary Fig. S4b,c). DY and 5-FU up-regulated the expression of cleaved caspase-9 and cleaved caspase-3 (P < 0.05). To clarify whether the activation of caspase-3/9 was associated with the apoptosis induced by DY and 5-FU, we further evaluated a downstream apoptotic indicator-poly (ADP-ribose) polymerase (PARP). Figure 4c shows that the cleaved PARP in CRC cells treated with DY and 5-FU was notably up-regulated (Supplementary Fig. S4e). Furthermore, when inhibiting the activities of caspase-3 and caspase-9 by Z-DEVD-FMK and L-LEHD-FMK, the apoptotic rates of the HCT-116 and RKO cells were reduced from 45.06 ± 1.44% to 36.44 ± 1.54% or 36.89 ± 0.92% and 12.24 ± 0.24% to 10.02 ± 0.42% or 10.26% ± 0.25%, respectively (Supplementary Fig. S2b, P < 0.05). Additionally, the anti-proliferative effects of the combined treatment were partially abrogated when cleavage of caspase-3/9 was blocked (Supplementary Fig. S2c). A univariate analysis showed that the five proteins all correlated with the viabilities of cells treated with DY and/or 5-FU (R2 > 0.6), and the correlations were stronger for Bax and caspase-3 (R2 > 0.9, P < 0.05) (Fig. 4d). Taken together, the results show that DY and 5-FU could cooperatively induce a ROS-mediated, mitochondria-caspase-dependent apoptosis, which probably accounts for their synergistic effects on the cytotoxicity in CRC cells.