Fabrication of potato-like silver molybdate microstructures for photocatalytic degradation of chronic toxicity ciprofloxacin and highly selective electrochemical detection of H 2 O 2
ABSTRACT
---
In the present work, potato-like silver molybdate (Ag2MoO4) microstructures were synthesized through a simple hydrothermal method. The microstructures of Ag2MoO4 were characterized by various analytical and spectroscopic techniques such as XRD, FTIR, Raman, SEM, EDX and XPS. Interestingly, the as-prepared Ag2MoO4 showed excellent photocatalytic and electrocatalytic activity for the degradation of ciprofloxacin (CIP) and electrochemical detection of hydrogen peroxide (H2O2), respectively. The ultraviolet-visible (UV-Vis) spectroscopy results revealed that the potato-like Ag2MoO4 microstructures could offer a high photocatalytic activity towards the degradation of CIP under UV-light illumination, leads to rapid degradation within 40 min with a degradation rate of above 98%. In addition, the cyclic voltammetry (CV) and amperometry studies were realized that the electrochemical performance of Ag2MoO4 modified electrode toward H2O2 detection. Our H2O2 sensor shows a wide linear range and lower detection limit of 0.04–240 μM and 0.03 μM, respectively. The Ag2MoO4 modified electrode exhibits a high selectivity towards the detection of H2O2 in the presence of different biological interferences. These results suggested that the development of potato-like Ag2MoO4 microstructure could be an efficient photocatalyst as well as electrocatalyst in the potential application of environmental, biomedical and pharmaceutical samples.
No MeSH data available.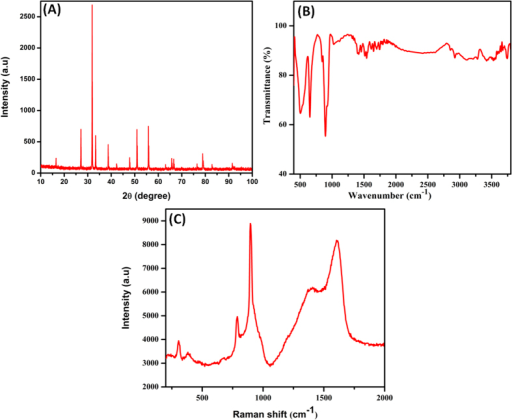 © Copyright Policy - open-access
License
getmorefigures.php?uid=PMC5037444&req=5
Mentions: The crystalline structure and phase purity of the as-synthesized samples were determined by using XRD pattern as shown in Fig. 2A. The distinctive diffraction peaks obtained at 16.48°, 27.09°, 31.87°, 33.31°, 38.65°, 42.27°, 47.84°, 50.93°, 55.81°, 63.10°, 65.70°, 66.57°, 76.49° and 78.90° in the 2θ range which well agreed to the (111), (220), (311), (222), (400), (331), (422), (511), (440), (620), (533), (622), (642) and (731) reflection planes, respectively. Aforementioned planes are well related to the standard XRD report of cubic phase structured Ag2MoO4 with the space group of Fdm51. From the XRD pattern, it was clearly revealed that the as-synthesized product is β-Ag2MoO436. The appearance of sharp and high intense peaks demonstrated the higher crystalline nature of cubic Ag2MoO4 phase. There is no any other peaks were appeared which related to the Ag2O or MoO3 phase, indicates the as-synthesized Ag2MoO4 was homogeneous solid.