Leucine zipper-EF-hand containing transmembrane protein 1 (LETM1) forms a Ca 2+ /H + antiporter
ABSTRACT
---
Leucine zipper-EF-hand-containing transmembrane protein1 (LETM1) is located in the mitochondrial inner membrane and is defective in Wolf-Hirschhorn syndrome. LETM1 contains only one transmembrane helix, but it behaves as a putative transporter. Our data shows that LETM1 knockdown or overexpression robustly increases or decreases mitochondrial Ca2+ level in HeLa cells, respectively. Also the residue Glu221 of mouse LETM1 is identified to be necessary for Ca2+ flux. The mutation of Glu221 to glutamine abolishes the Ca2+-transport activity of LETM1 in cells. Furthermore, the purified LETM1 exhibits Ca2+/H+ anti-transport activity, and the activity is enhanced as the proton gradient is increased. More importantly, electron microscopy studies reveal a hexameric LETM1 with a central cavity, and also, observe two different conformational states under alkaline and acidic conditions, respectively. Our results indicate that LETM1 is a Ca2+/H+ antiporter and most likely responsible for mitochondrial Ca2+ output.
No MeSH data available.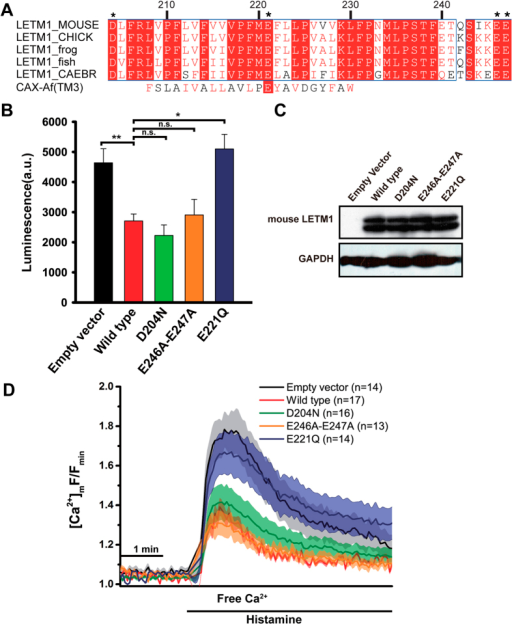 © Copyright Policy - open-access
License
getmorefigures.php?uid=PMC5037442&req=5
Mentions: In general, acidic amino acids glutamates and aspartates near or in the core domain of Ca2+ channels or transporters may involve in mediating Ca2+ transport323334. We then attempted to identify the key amino acid that is related to the Ca2+ transport. The LETM1 sequences from different species were aligned. Several conserved acidic amino acids (D204, E221, E246 and E247) near the predicted transmembrane helix were selected for further analysis (Fig. 2A). First, we analyzed the localization of these mutants. The LETM1 wild-type and mutant genes with a C terminal GFP tag were transfected in HeLa cells, and the results show that three mutants D204N, E246A-E247A, and E221Q were all localized in mitochondria (Figure S1). Second, we measured the mitochondrial Ca2+ level after overexpressing LETM1 wild type and mutants in HeLa cells with co-transfecting a mitochondria targeted aequorin mutant (mtAEQ-mut). Luminescence from the mtAEQ-mut was then counted after the histamine stimulation. Overexpression of the wild-type LETM1 significantly reduced the calcium level in the mitochondria. When compared with the wild type, overexpression of the mutants (D204N and E246A-E247A) exhibited a comparable calcium level in the mitochondria. Strikingly, overexpression of the mutant E221Q exhibited a much higher mitochondrial calcium level (Fig. 2B,C). We also verified the results using single cell-based fluorescence measurements. After transient transfection with wild-type and mutant LETM1, the HeLa cells were loaded with the mitochondrial Ca2+ indicator, rhod-2, and stimulated with histamine to assess the mitochondrial Ca2+ dynamics (Fig. 2D). As expected, the LETM1 wild type, D204N and E246A-E247A exhibited significantly lower mitochondrial Ca2+ levels compared with E221Q. The residue of E221, which is located in the putative transmembrane helix of LETM1, is a homologue to the residue of E78 of the transmembrane helix 3 of Archaeoglobus fulgidus for the H+/Ca2+ exchanger (refer to CAX_af thereafter) that is crucial for the Ca2+ flux32 (Fig. 2A). It has been noted that basal Ca2+ levels are similar in cells transfected by different constructs (Figure S2B,C). Therefore, LETM1 possibly behaves as a Ca2+ transporter that outputs Ca2+ from the mitochondria. Additionally, E221 may play an important role in regulating mitochondrial Ca2+ transport.