Historical colonization and dispersal limitation supplement climate and topography in shaping species richness of African lizards (Reptilia: Agaminae)
ABSTRACT
---
To what extent deep-time dispersal limitation shapes present-day biodiversity at broad spatial scales remains elusive. Here, we compiled a continental dataset on the distributions of African lizard species in the reptile subfamily Agaminae (a relatively young, Neogene radiation of agamid lizards which ancestors colonized Africa from the Arabian peninsula) and tested to what extent historical colonization and dispersal limitation (i.e. accessibility from areas of geographic origin) can explain present-day species richness relative to current climate, topography, and climate change since the late Miocene (~10 mya), the Pliocene (~3 mya), and the Last Glacial Maximum (LGM, 0.021 mya). Spatial and non-spatial multi-predictor regression models revealed that time-limited dispersal via arid corridors is a key predictor to explain macro-scale patterns of species richness. In addition, current precipitation seasonality, current temperature of the warmest month, paleo-temperature changes since the LGM and late Miocene, and topographic relief emerged as important drivers. These results suggest that deep-time dispersal constraints — in addition to climate and mountain building — strongly shape current species richness of Africa's arid-adapted taxa. Such historical dispersal limitation might indicate that natural movement rates of species are too slow to respond to rates of ongoing and projected future climate and land use change.
No MeSH data available.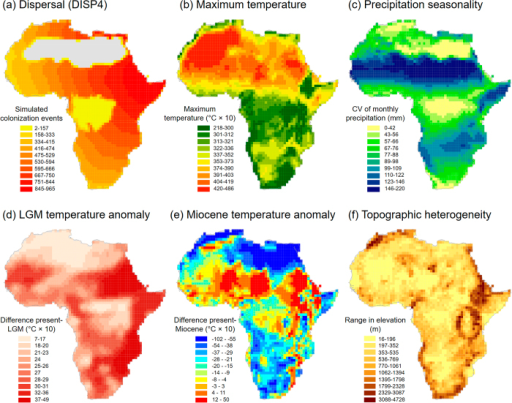 © Copyright Policy - open-access
License
getmorefigures.php?uid=PMC5037428&req=5
Mentions: In addition to historical dispersal limitation (Fig. 4a), current climate also played a key role for explaining species richness of agamid lizards. The general importance of temperature-related variables in our analysis is consistent with results from other broad-scale studies on species richness of lizards and reptiles in the Palearctic, North America, and Australia2. However, in contrast to Northern hemisphere studies we found a negative relationship between species richness and maximum temperature of the warmest month which indicates that the Saharan desert with its temperature extremes (red parts in Fig. 4b) is mostly uninhabitable for agamid lizards. This result corroborates the idea that physiological constraints related to temperature limit the distribution and diversity of ectotherms such as reptiles41. Ectotherm body temperatures closely follow environmental temperatures, and temperature extremes (both maximum and minimum) can therefore have a strong influence on the performance, metabolic rates, activity times, thermal limits and population dynamics of lizards424344. Consequently, species richness of lizards and other ectotherms generally correlates more strongly with temperature than those of endotherms such as birds and mammals241. In addition to temperature, a hump-shaped relationship between species richness and current precipitation seasonality was revealed, suggesting that species richness peaks in areas of intermediate precipitation seasonality. In Africa, regions with intermediate precipitation seasonality (green areas in Fig. 4c) are mostly found along the Sahel corridor, in Northwest Africa, and in some parts of the arid corridor from the Horn of Africa to south-western Africa. In contrast, areas with the lowest precipitation seasonality (yellow in Fig. 4c) are located in the southern tips of Africa, in the tropical regions around the equator, and in parts of the Sahara and North Africa, whereas the highest precipitation seasonality (blue in Fig. 4c) is found in the southern parts of the Sahara north of the Sahel corridor. Recent analyses of desert-adapted vertebrate species suggest that future changes in precipitation (rather than temperature) might be a major threat for lizards in the Sahara-Sahel region45.