Historical colonization and dispersal limitation supplement climate and topography in shaping species richness of African lizards (Reptilia: Agaminae)
ABSTRACT
---
To what extent deep-time dispersal limitation shapes present-day biodiversity at broad spatial scales remains elusive. Here, we compiled a continental dataset on the distributions of African lizard species in the reptile subfamily Agaminae (a relatively young, Neogene radiation of agamid lizards which ancestors colonized Africa from the Arabian peninsula) and tested to what extent historical colonization and dispersal limitation (i.e. accessibility from areas of geographic origin) can explain present-day species richness relative to current climate, topography, and climate change since the late Miocene (~10 mya), the Pliocene (~3 mya), and the Last Glacial Maximum (LGM, 0.021 mya). Spatial and non-spatial multi-predictor regression models revealed that time-limited dispersal via arid corridors is a key predictor to explain macro-scale patterns of species richness. In addition, current precipitation seasonality, current temperature of the warmest month, paleo-temperature changes since the LGM and late Miocene, and topographic relief emerged as important drivers. These results suggest that deep-time dispersal constraints — in addition to climate and mountain building — strongly shape current species richness of Africa's arid-adapted taxa. Such historical dispersal limitation might indicate that natural movement rates of species are too slow to respond to rates of ongoing and projected future climate and land use change.
No MeSH data available.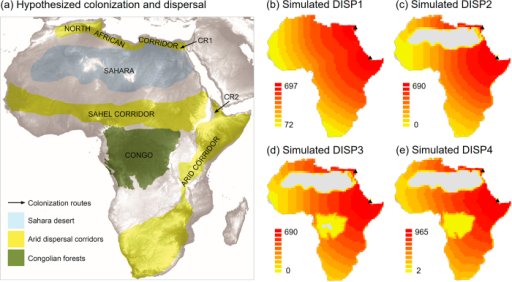 © Copyright Policy - open-access
License
getmorefigures.php?uid=PMC5037428&req=5
Mentions: Phylogenetic, morphological and fossil data28293132 suggest that ancestors of the subfamily Agaminae have colonized Africa via the Arabian Peninsula ('CR1' and 'CR2' in Fig. 2a). Using a simple, raster-based, stochastic dispersal model11 we therefore simulated four generalized historical colonization patterns for the entire subfamily by generating maps of geographic accessibility from these areas of origin (Fig. 2b–e). The four dispersal scenarios (DISP1–4, summarized in Table 1) mainly differed in the way dispersal suitability of grid cells was quantified (for details see Table 1, Fig. 2b–e). All simulated dispersal scenarios (DISP1–DISP4) were significantly correlated with species richness of agamid lizards across Africa, but the correlation strengths differed among scenarios. Simulating dispersal into a homogeneous environment (DISP1, Table 1) was only weakly correlated with species richness (Spearman rank: r = −0.06, p < 0.002). When masking the Sahara desert as unsuitable (DISP2, Table 1), a stronger correlation between simulated dispersal and species richness emerged (r = 0.29, p < 0.001). Setting the Congo forests additionally with low suitability (DISP3, Table 1) produced an even higher correlation (r = 0.42, p < 0.001), and further assuming the highest suitability of colonization in arid corridors (DISP4, Table 1) produced the strongest correlation (r = 0.45, p < 0.001). The latter two dispersal scenarios (DISP3, DISP4) showed much higher correlations than most other tested environmental predictor variables (mean: r = 0.19; range: r = 0.03–0.43; n = 13). Moreover, a partitioning of the variation of species richness with respect to the four simulated dispersal scenarios showed that the variance explained by all four scenarios together (R2 = 0.23) could also be explained by only combining DISP1, DISP2 and DISP3 or DISP1, DISP2 and DISP4 (both with R2 = 0.23). Individually, DISP1 explained no variance in species richness (R2 = 0), DISP2 about 43% of the variance explained by all scenarios (R2 = 0.10), and DISP3 and DISP4 about 74% (R2 = 0.17). Hence, both DISP3 (with the Sahara desert masked and the Congo forest having low suitability) and DISP4 (additionally with higher suitability in arid corridors) were the most relevant dispersal scenarios to explain current species richness of agamid lizards.