Individuals that are consistent in risk-taking benefit during collective foraging
ABSTRACT
---
It is well established that living in groups helps animals avoid predation and locate resources, but maintaining a group requires collective coordination, which can be difficult when individuals differ from one another. Personality variation (consistent behavioural differences within a population) is already known to be important in group interactions. Growing evidence suggests that individuals also differ in their consistency, i.e. differing in how variable they are over time, and theoretical models predict that this consistency can be beneficial in social contexts. We used three-spined sticklebacks (Gasterosteus aculeatus) to test whether the consistency in, as well as average levels of, risk taking behaviour (i.e. boldness) when individuals were tested alone affects social interactions when fish were retested in groups of 2 and 4. Behavioural consistency, independently of average levels of risk-taking, can be advantageous: more consistent individuals showed higher rates of initiating group movements as leaders, more behavioural coordination by joining others as followers, and greater food consumption. Our results have implications for both group decision making, as groups composed of consistent individuals are more cohesive, and personality traits, as social interactions can have functional consequences for consistency in behaviour and hence the evolution of personality variation.
No MeSH data available.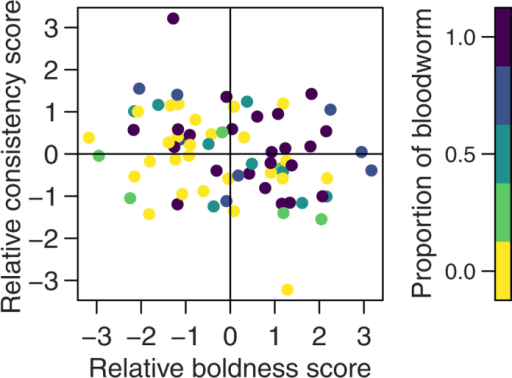 © Copyright Policy - open-access
License
getmorefigures.php?uid=PMC5037426&req=5
Mentions: Linking this functional perspective back to inter-individual variation, the proportion of bloodworms eaten by a fish significantly increased the more bold and consistent it was relative to its partner in two-fish trials (Fig. 5; binomial GLMM, n = 72: relative boldness: χ21,65 = 8.27, P = 0.0040; relative consistency: χ21,65 = 4.73, P = 0.030). Bolder or more consistent initiators were not more likely to cross the arena on their first trip without returning to the refuge compared to shyer initiators (binomial GLMM, n = 35: boldness: χ21,29 = 2.11, P = 0.15, consistency: χ21,29 = 0.35, P = 0.56) or to cross alone (binomial GLMM, n = 33: boldness: χ21,27 = 0.0004, P = 0.98, consistency: χ21,27 = 0.56, P = 0.45), suggesting it may be the effect of how bold and/or consistent they were on whether they initiated that influenced the amount of food eaten. To test this further, the proportion of food eaten was re-analysed with both personality trait score differences and being an initiator as explanatory variables: the only significant influence was whether a fish was the initiator (binomial GLMM, n = 70: χ21,62 = 6.11, P = 0.013, when mean boldness main effects were included in the model), with the differences in the personality trait scores of the two fish losing their statistical significance (boldness difference: χ21,62 = 3.82, P = 0.051; consistency difference: χ21,62 = 2.23, P = 0.14). Thus, both boldness and consistency determine which fish is the initiator, which in turn determines the proportion of food eaten by a fish.