Displacement correlations between a single mesenchymal-like cell and its nucleus effectively link subcellular activities and motility in cell migration analysis
ABSTRACT
---
Cell migration is an essential process in organism development and physiological maintenance. Although current methods permit accurate comparisons of the effects of molecular manipulations and drug applications on cell motility, effects of alterations in subcellular activities on motility cannot be fully elucidated from those methods. Here, we develop a strategy termed cell-nuclear (CN) correlation to parameterize represented dynamic subcellular activities and to quantify their contributions in mesenchymal-like migration. Based on the biophysical meaning of the CN correlation, we propose a cell migration potential index (CMPI) to measure cell motility. When the effectiveness of CMPI was evaluated with respect to one of the most popular cell migration analysis methods, Persistent Random Walk, we found that the cell motility estimates among six cell lines used in this study were highly consistent between these two approaches. Further evaluations indicated that CMPI can be determined using a shorter time period and smaller cell sample size, and it possesses excellent reliability and applicability, even in the presence of a wide range of noise, as might be generated from individual imaging acquisition systems. The novel approach outlined here introduces a robust strategy through an analysis of subcellular locomotion activities for single cell migration assessment.
No MeSH data available.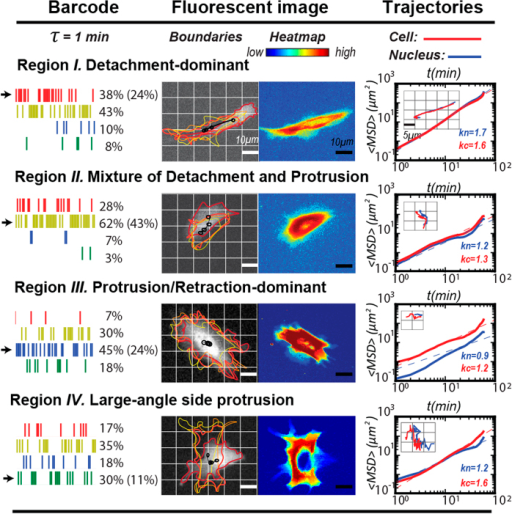 © Copyright Policy - open-access
License
getmorefigures.php?uid=PMC5037420&req=5
Mentions: To test the hypothesis discussed above, we designed a barcode to display the migration information of a single cell (Fig. 1c). Movies of a single cell and its coupled nucleus were simultaneously acquired from RFP-introduced and Hoechst 33342-labeled NIH 3T3 fibroblast cultures at 1-min intervals over one hour, and were analyzed together to extract 60 CN correlation data points. Then, each CN correlation data point was assigned to a bar with a designated color based on the location of the point in the CCD vs. NCD// plot, where Regions I, II, III, and IV were specified as red, yellow, blue, and green, respectively. The bars were plotted horizontally by the time of occurrence and grouped vertically by region to assemble a barcode. Following, we analyzed 50 NIH 3T3 fibroblast movies, and obtained corresponding barcodes of each movie as a barcode collection (Supplementary Information 1). Using this collection, we calculated the overall occurrence rate of each region in all 50 samples, where occurrence percentage rates of Regions I, II, III, and IV were 24%, 42%, 24% and 11%, respectively. Consequently, we selected four individual barcodes in each separate region (Fig. 2, left), which possesses significantly higher percentile of CN correlation occurrence than the average occurrence rate of the corresponding region, and inspected their source movies.