Endosome – mitochondria interactions are modulated by iron release from transferrin
ABSTRACT
---
Using superresolution and quantitative fluorescence microscopy, Das et al. have revealed that iron-transferrin–containing endosomes directly interact with mitochondria, facilitating iron transfer in epithelial cells. Their findings further enrich the repertoire of organelle–organelle direct interactions to accomplish a functional significance.
No MeSH data available.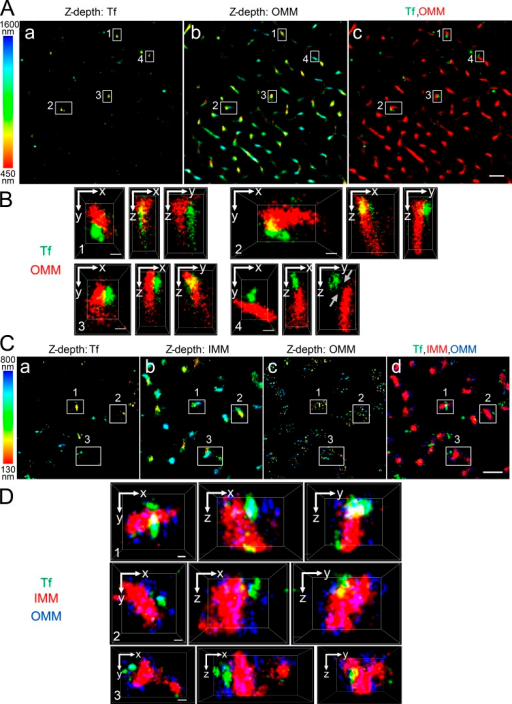 © Copyright Policy - openaccess
License 1 - License 2


getmorefigures.php?uid=PMC5037410&req=5

Mentions: In developing erythroid cells, the demonstration of iron transfer from the Tf-endosome to the mitochondria has led to the kiss and run hypothesis (Sheftel et al., 2007; Richardson et al., 2010). Such intracellular organelle–organelle interactions, occurring at nanometer range, can be convincingly demonstrated using STORM, which is based on high-accuracy localization of photoswitchable fluorophores providing single molecule detection and improved lateral resolution up to nanometer range (Rust et al., 2006). STORM imaging has helped study clathrin-mediated endocytosis (Jones et al., 2011; Xie et al., 2016) and spatial resolution of mitochondrial outer and inner membrane organization (Huang et al., 2008a; Shim et al., 2012; Jakobs and Wurm, 2014; Klotzsch et al., 2015). To explore the interactions between Tf-endosomes and mitochondria at early time points of the Tf endocytic pathway in nonerythroid cells, MDCK transfected with rabbit polymeric lgA receptor and hTf receptor (MDCK-PTR) epithelial cells were incubated with Alexa Fluor (AF) 647–Tf for 2 min at 37°C and chased with fresh imaging medium for another 2 min (see Materials and methods; Maxfield and McGraw, 2004). Cells were then fixed and subjected to immunofluorescence using antibodies against Tom20 and OxPhos to label the outer mitochondrial membrane (OMM; Fig. 1, A–D) and the inner mitochondrial membrane (IMM; Fig. 1, C and D), respectively. 3D dSTORM imaging of the double- (Fig. 1, A and B) and triple-labeled (Fig. 1, C and D) immunostained cells was performed by introducing a cylindrical lens in the light path before the detector and comparing the x- and y-width profiles of the emission point spread function of individual fluorophores against a predetermined calibration curve (Huang et al., 2008b). This enabled us to distinguish the z positions of fluorophores situated 50 nm apart from each other within images with a total z depth of ∼1,150 nm (Fig. 1 A, a and b) and ∼670 nm (Fig. 1 C, a–c). Images were collected at the cell periphery, where the majority of the Tf-endosomes were found to be located close to mitochondria (Fig. 1, A c and C d), suggesting a complex interconnected spatial distribution of the two organelles. Different regions of interest (ROIs; Fig. 1 A, ROIs 1–4; and Fig. 1 C, ROIs 1–3) were enlarged to reveal distinct interactions between Tf-endosomes and mitochondria in all three dimensions (Fig. 1, B and D; and Videos 1 and 2). In sharp contrast, a Tf-endosome, despite being located fairly proximal to a mitochondrion, is clearly not interacting with the OMM (Fig. 1 B and Video 1, ROI 4). However, because of the close proximity between the two organelles, this Tf-endosome may be in the process of initiating or have already completed an interaction event with the mitochondrion. Using 3D dSTORM imaging, we were able to spatially resolve the OMM and IMM (Fig. 1, C and D) that are separated by an intermembrane distance varying between ∼14 nm and ∼100 nm at the region of cristae (Reichert and Neupert, 2002; Kopek et al., 2012; Gold et al., 2014). The discontinuous appearance of Tom20 immunostaining is in agreement with the clustered distribution of Tom complexes on the OMM revealed by nanoscale imaging (Schmidt et al., 2008; Wurm et al., 2011). In contrast, the OxPhos immunostaining representing the IMM appears continuous and dense because of its abundance and uniform distribution (Betzig et al., 2006; van de Linde et al., 2008). Furthermore, STORM imaging confirms the expected size difference between Tf-endosomes and mitochondria, and hence, several Tf-endosomes can be detected in close proximity to a mitochondrion (Fig. 1 D). Thus, for the first time, using superresolution 3D dSTORM imaging, we have shown that Tf-endosomes directly interact with mitochondria in epithelial cells.