Structural, super-resolution microscopy analysis of paraspeckle nuclear body organization
ABSTRACT
---
Paraspeckles are nuclear bodies built on the long noncoding RNA Neat1. Using structural illumination microscopy, West et al. analyze the organization of paraspeckles at the submicron scale and show that paraspeckle proteins are arranged around bundles of Neat1, forming core-shell spheroidal structures dependent on the RNA binding protein Fus.
No MeSH data available.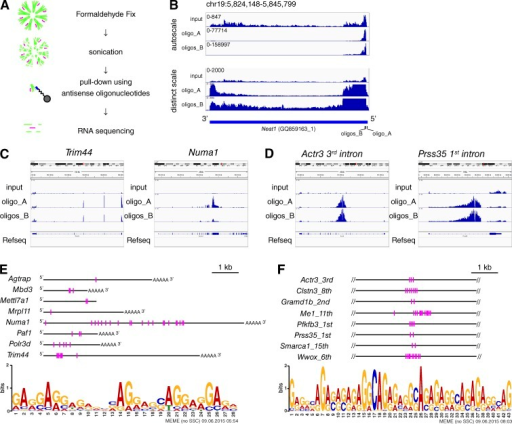 © Copyright Policy - openaccess
License 1 - License 2


getmorefigures.php?uid=PMC5037409&req=5

Mentions: Although the protein components of paraspeckles are well-characterized, limited information is available regarding their RNA components. To systematically identify RNA molecules that associated with paraspeckles, we purified the RNP complexes of Neat1 using a method termed capture hybridization analysis of RNA targets (CHART; Fig. 7 A), which was originally developed to identify the genomic binding sites of particular lncRNAs using antisense oligonucleotides designed against particular lncRNAs (Simon et al., 2011, 2013; West et al., 2014). We used oligonucleotides designed against the 5′ region of Neat1 (Fig. 7 B) because this region was the most sensitive to RNaseH digestion upon addition of the antisense oligonucleotides and was therefore expected to be accessible during the CHART purification (West et al., 2014). The Neat1 RNPs were purified from primary cultures of corpus luteal cells using two different sets of antisense oligonucleotides. The copurified RNAs were subsequently analyzed using a massively parallel sequencing (RNA sequencing) (Fig. 7 A). The 5′ region of Neat1 was predominantly enriched by CHART purification (Fig. 7 B), suggesting that partial RNP fragments and not the entire paraspeckle were recovered using this method. Interestingly, the 3′ region of Neat1 was also enriched to some extent by the CHART purification (Fig. 7 B), which was consistent with the aforementioned observation that the 5′ and the 3′ regions of Neat1 constitute the shell of the paraspeckle (Figs. 3 C and 5 F). We subsequently selected candidate RNA transcripts that were copurified with both of the two different sets of antisense oligonucleotide conditions (Fig. 7, C and D; Fig. S5; and Tables S1 and S2) to avoid artificial purification of specific RNA molecules via direct binding of the oligonucleotide to complementary sequences regardless of paraspeckles. These analyses revealed that two different types of RNA transcripts—spliced mRNAs, such as Trim44 and Numa1, and specific introns of particular genes, such as the third intron of Actr3 and the first intron of Prss35—copurified with Neat1 (Fig. 7, C and D; and Fig. S5). Interestingly, Multiple Em for Motif Elicitation (MEME) analyses revealed that all CHART-enriched RNAs contained AG-rich sequence motifs that were arranged in tandem (Fig. 7, E and F). No other features, including exon–intron organization or chromosomal positions, were shared between the CHART-enriched RNAs. To confirm the paraspeckle localization of the first intron of Prss35, one of these candidate paraspeckle-enriched RNAs in corpus luteal cells, we performed FISH using probes designed to detect the sequences located outside the AG-rich sequence motifs. Conventional microscopic observation revealed that subpopulation of the Prss35 signals was overlapped with Neat1 (Fig. 8, A and B, left), suggesting that they were indeed enriched in the paraspeckles. In contrast, the signals obtained with probes that detect exons of Prss35 did not coincide with Neat1 (Fig. 8, A and B, right), suggesting that spliced introns, but not pre-mRNAs, were enriched in the paraspeckles. Subsequently, we analyzed the distribution of the AG-rich motif-containing transcripts in corpus luteal cells using SIM. Notably, all of the AG-rich RNAs localized at the shell of the paraspeckle spheres, as revealed by the Neat1_5′+3′ probe (Fig. 8, C and D; and Fig. S5). The signals of the AG-rich RNAs were discontinuous, observed as dots and aligned along the surface of the paraspeckles (Fig. 8, C and D; and Fig. S5). As shown in Fig. 8 A, we noticed only a subpopulation of AG-rich RNAs was colocalized to paraspeckles, suggesting that the paraspeckles did not entirely sequester these target RNAs but rather trapped them when they were encountered in the nucleoplasm. Consistent with this hypothesis, we could not detect significant changes in the amount of CHART-enriched AG-rich RNAs in the nuclear or cytoplasmic fractions of the corpus luteal cells prepared from Neat1 KO mice (Fig. 8 E).