Structural, super-resolution microscopy analysis of paraspeckle nuclear body organization
ABSTRACT
---
Paraspeckles are nuclear bodies built on the long noncoding RNA Neat1. Using structural illumination microscopy, West et al. analyze the organization of paraspeckles at the submicron scale and show that paraspeckle proteins are arranged around bundles of Neat1, forming core-shell spheroidal structures dependent on the RNA binding protein Fus.
No MeSH data available.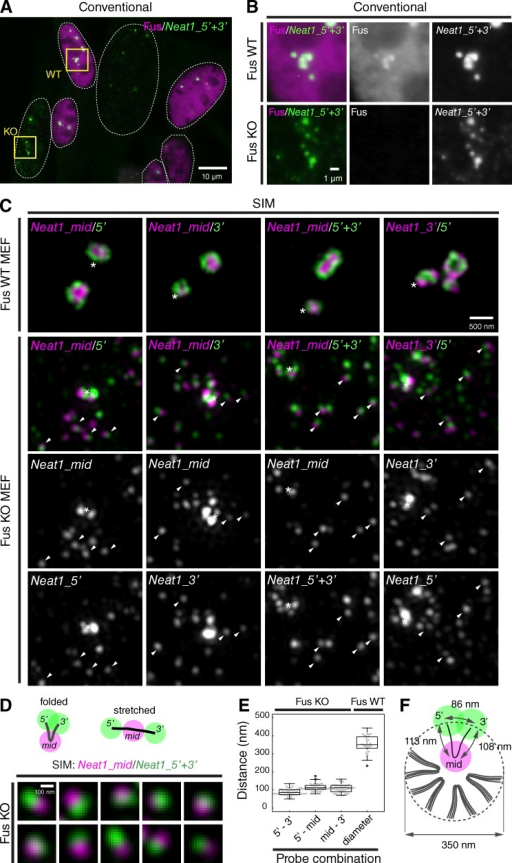 © Copyright Policy - openaccess
License 1 - License 2


getmorefigures.php?uid=PMC5037409&req=5

Mentions: Among the proteins that are essential for the formation of paraspeckles, the category Ib proteins, including Fus, are unique because the depletion of these proteins does not significantly affect the levels of Neat1_2, the architectural form of Neat1 (Naganuma et al., 2012; Shelkovnikova et al., 2014). This is in sharp contrast to the depletion of category Ia protein (e.g., Sfpq or Nono), which leads to a dramatic decrease of Neat1_2 (Naganuma et al., 2012). We thus investigated the structures formed by Neat1_2 using mouse embryonic fibroblast (MEF) cells prepared from Fus KO mice (Hicks et al., 2000), which exhibit neonatal lethality caused by genomic instability. As previously reported (Prasanth et al., 2005; Nakagawa et al., 2011), distinct formation of paraspeckles was observed in MEFs prepared from wild-type (WT) embryos. Notably, we occasionally observed Neat1-positive, paraspeckle-like nuclear bodies prepared from Fus KO mice, revealed by a conventional epifluorescence microscope (Fig. 5, A and B). Thus, we investigated whether these bodies consisted of the core-shell structure we observed in the corpus luteal cells using SIM. FISH analyses using the region-specific Neat1 probes revealed the characteristic core-shell spheroidal structures in the MEFs derived from WT mice. These structures were indistinguishable from the paraspeckles in the corpus luteal cells (Fig. 5 C). However, in the MEFs derived from Fus KO mice, Neat1 accumulated at its putative transcription sites but never formed the core-shell structure (Fig. 5 C, asterisks indicating putative transcription sites). Instead, numerous Neat1 FISH signals were observed throughout the nucleoplasm, and the signals for one region of Neat1 were frequently accompanied by those of the other region (Fig. 5 C, arrowheads). These observations suggested that Neat1 formed a primary unit, but failed to be assembled into paraspeckles, being released from the putative transcription sites in the Fus KO MEFs.