Structural, super-resolution microscopy analysis of paraspeckle nuclear body organization
ABSTRACT
---
Paraspeckles are nuclear bodies built on the long noncoding RNA Neat1. Using structural illumination microscopy, West et al. analyze the organization of paraspeckles at the submicron scale and show that paraspeckle proteins are arranged around bundles of Neat1, forming core-shell spheroidal structures dependent on the RNA binding protein Fus.
No MeSH data available.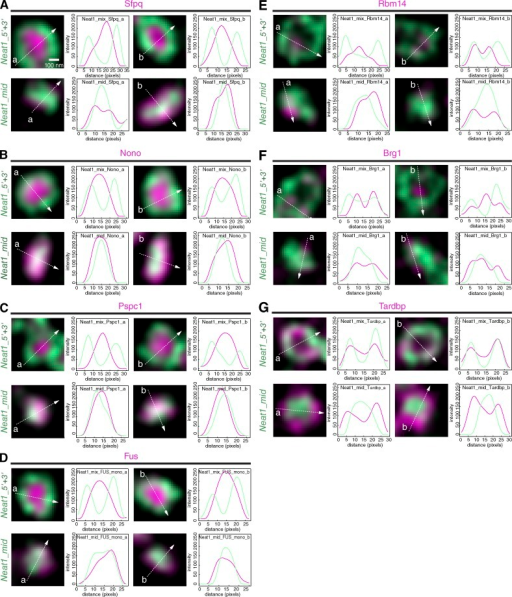 © Copyright Policy - openaccess
License 1 - License 2


getmorefigures.php?uid=PMC5037409&req=5

Mentions: Paraspeckles contain >40 proteins that exhibit RNA-binding properties. We compared the FISH signals with the spatial distribution of seven of these proteins—Sfpq, Nono, Pspc1, Fus, Rbm14, Brg1, and Tardbp, which were detected by immunohistochemistry after FISH (Figs. 3, 4, and S3). To optimize simultaneous detection of RNA and proteins, we omitted the proteinase K treatment that is commonly included in the FISH protocols using RNA probes, and this improved protocol well preserves the epitopes recognized by antibodies against paraspeckle proteins (Fig. S4). Notably, paraspeckle protein components can be categorized into three groups depending on their position in the paraspeckle spheroids: the core group, the patch group, and the shell group. The core group includes Sfpq, Nono, and Pspc1, all of which are members of the DBHS family of RNA-binding proteins (Dong et al., 1993; Shav-Tal and Zipori, 2002). The signals of the core group proteins largely coincided with the signals from the middle region of Neat1, which was surrounded by a continuous shell as revealed by the Neat1_5′+3′ probe (Fig. 3 A; Fig. 4, A–C; and Fig. S3). Fus was also localized in the core of the spheroids, as detected by an mAb raised against the C-terminal region of the protein (Fig. 3 A; Fig. 4 D; and Fig. S3). Proteins in the second group, Rbm14 and Brg1, formed small patches that were primarily distributed in the core but also in the shell of the paraspeckle (Fig. 3 A; Fig. 4, E and F; and Fig. S3). The third group, consisting of only Tardbp, was predominantly localized at the shell of the paraspeckle. Weak but significant signals of Tardbp were also detected in the core of the paraspeckle (Figs. 3 A, Fig. 4 G; and Fig. S3). To computationally validate the arbitrary classification of the paraspeckle proteins, we used a pattern-recognition utility called wndchrm, which enabled the calculation of similarity distances between groups of images from a large (∼2,700) set of features extracted from each image via a machine learning algorithm (Shamir et al., 2008). As expected, Sfpq, Nono, Pspc1, and Fus were grouped in a branch containing the middle region of Neat1, Rbm14 and Brg1 were closely related in a separate branch, and Tardbp was classified in a branch containing the 5′ and 3′ regions of Neat1 (Fig. 3 B). Collectively, the SIM analyses revealed fine core-shell spheroidal structures of paraspeckles. Each paraspeckle component was distributed in a distinct position in an ordered manner (Fig. 3 C).