Cancer-associated mutations in the protrusion-targeting region of p190RhoGAP impact tumor cell migration
ABSTRACT
---
p190RhoGAP (p190A) is a negative regulator of RhoA and localizes to membrane protrusions, where its GAP activity is required for directional migration. Here, Binamé et al. identify the protrusion-localization sequence in p190A and show that cancer-associated mutations in this region affect p190A localization and function as well as tumor cell migration.
No MeSH data available.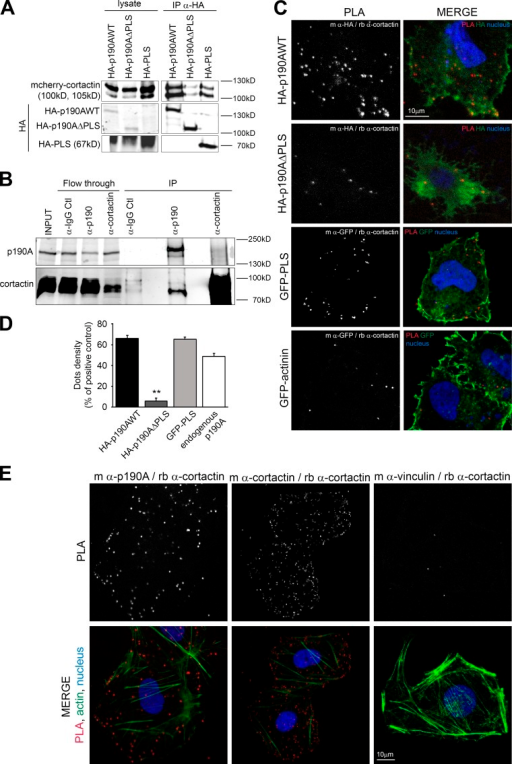 © Copyright Policy - openaccess
License 1 - License 2


getmorefigures.php?uid=PMC5037408&req=5

Mentions: To further characterize the molecular mechanisms responsible for PLS function, we searched for PLS binding partners. As PLS targets proteins to membrane protrusions, we first tested a potential interaction of the PLS with phospholipids. Phospholipid binding assays were performed using purified GST-PLS on PIP strip membranes. Unlike PLC-γ1–PH, which corresponds to the pleckstrin homology domain of the PLC-γ1 and Rgd1, a yeast RhoGAP protein (Prouzet-Mauléon et al., 2008), PLS was not able to interact with phospholipids (Fig. S4 A). We then performed GST pulldown assays using GST-PLS as bait in Huh7 cell lysates. Candidate partner proteins were screened by immunoblotting based on shared characteristics with p190A, such as association with F-actin and localization to membrane protrusions. This approach successfully identified cortactin as a specific partner of PLS, contrary to the actin-related protein 2 (Arp2), which did not bind to GST-PLS (Fig. S4 B). Cortactin is a crucial regulator of actin cytoskeleton dynamics involved in lamellipodial persistence through the binding of the Arp2/3 complex and F-actin (Bryce et al., 2005). We confirmed this interaction in Huh7 cells by coimmunoprecipitating transiently expressed mcherry-cortactin with HA-tagged PLS and p190AWT. In the same conditions, p190AΔPLS displayed a dramatically reduced binding to cortactin (Fig. 3 A). The interaction between p190A and cortactin was also confirmed on endogenous proteins by coprecipitating cortactin using anti-p190 antibody in Huh7 cells (Fig. 3 B). To visualize the interaction between cortactin and p190A in the cell, we used the proximity ligation assay (PLA). As shown in Fig. 3 (C and D), PLS-containing constructs HA-p190AWT and GFP-PLS displayed dots of interaction with cortactin in the whole cell body with an increased density at the plasma membrane. α-Actinin–GFP used as negative control and HA-p190AΔPLS displayed only background dots (Fig. 3, C and D). To avoid any potential artifact from expression difference between constructs, PLA was then tested using antibodies directed against endogenous p190A and cortactin. As positive and negative controls, antibodies directed, respectively, against two epitopes of cortactin or two noninteracting proteins present at the cell periphery, cortactin and vinculin, were used. As expected, the positive control produced many dots in the whole cell with a greater density at membrane ruffles where cortactin localizes, whereas the negative control produced only few background dots (Fig. 3 E). PLA performed with endogenous p190A and cortactin revealed dots in the whole cell but preferentially at the cell edges (Fig. 3 E, left). Quantification of dots density (Fig. 3 D) confirmed the close association of p190A and cortactin and the requirement of PLS in this association.