Cancer-associated mutations in the protrusion-targeting region of p190RhoGAP impact tumor cell migration
ABSTRACT
---
p190RhoGAP (p190A) is a negative regulator of RhoA and localizes to membrane protrusions, where its GAP activity is required for directional migration. Here, Binamé et al. identify the protrusion-localization sequence in p190A and show that cancer-associated mutations in this region affect p190A localization and function as well as tumor cell migration.
No MeSH data available.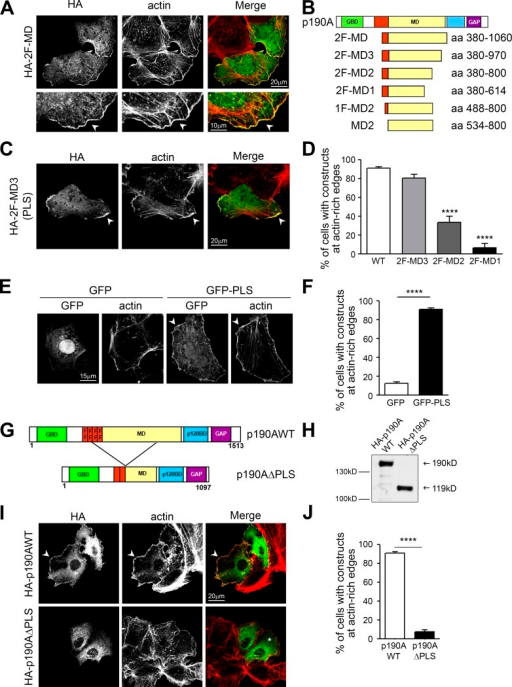 © Copyright Policy - openaccess
License 1 - License 2


getmorefigures.php?uid=PMC5037408&req=5

Mentions: p190A is a large multidomain protein including an N-terminal GTP-binding segment (GBD) followed by four FF domains (protein–protein-interacting modules harboring two strictly conserved phenylalanine residues), a middle domain (MD), a p120RasGAP binding domain (p120BD), and the C-terminal RhoGAP domain (GAP). To functionally characterize p190A domains, we generated 12 HA-tagged truncated versions of p190A overlapping the different domains as described in Table S3. Each construct was then transfected into Huh7 cells, and actin remodeling and recombinant protein localization were analyzed by immunofluorescence microscopy (Fig. S1). Due to its RhoGAP activity, overexpression of HA-p190AWT in cells induces stress fiber loss (Ridley et al., 1993). The same pattern was observed for each construct containing the GAP domain (Fig. S1; p120BD-GAP, GAP, ΔGBD, and ΔGBD-2F). On the contrary, all of the constructs without this catalytic domain left the stress fibers unaffected (Fig. S1; Δp120BD-GAP, GBD-4F, 4F, 4F-MD, 2F-MD-p120BD, p120BD, 2F-MD, and 2F), confirming that the GAP domain alone is sufficient to promote actin cytoskeleton reorganization. This analysis also led to the identification of a construct composed of the two last FF domains and the MD of p190A (2F-MD) as the minimal p190A protein that colocalizes with F-actin at membrane protrusions (Fig. 2 A; Fig. S1; and Table S3). This enrichment at actin-rich edges was not observed for many other soluble HA-tagged truncated constructs, ruling out artifactual staining attributable to an increased membrane thickness in this region (Fig. S1). To determine the minimal PLS, N- and C-terminal truncations of the 2F-MD construct were performed (Fig. 2 B). A deletion of 90 aa from the C-terminal end of the 2F-MD construct did not alter its membrane targeting (2F-MD3; Fig. 2, C and D). However, further C-terminal truncation dramatically decreased its localization to actin-rich edges (Fig. 2, B and D; and Fig. S2). Furthermore, truncation from the N-terminal end (1F-MD2 and MD2) altered the specificity of the localization (Fig. S2). Indeed, the suppression of the FF domains led to the nonspecific localization of p190A mutants to all F-actin structures, including stress fibers and focal adhesions (Fig. S2). We can therefore hypothesize that the MD mediates the localization of p190A to polymerized actin, whereas the FF domains coupled to the MD specify actin-rich protrusion targeting. Hence, our results demonstrate that the 2F-MD3 construct, corresponding to aa 380–971, is the minimal domain sufficient to target p190A to membrane protrusions and is therefore p190A PLS.