The Munc18-1 domain 3a hinge-loop controls syntaxin-1A nanodomain assembly and engagement with the SNARE complex during secretory vesicle priming
ABSTRACT
---
Kasula et al. use single-molecule imaging to reveal the diffusional signature for the SNARE proteins Munc18-1 and syntaxin-1A during secretory vesicle priming. The authors show that a conformational change in the Munc18-1 domain 3a hinge-loop regulates engagement of syntaxin-1A in the SNARE complex.
No MeSH data available.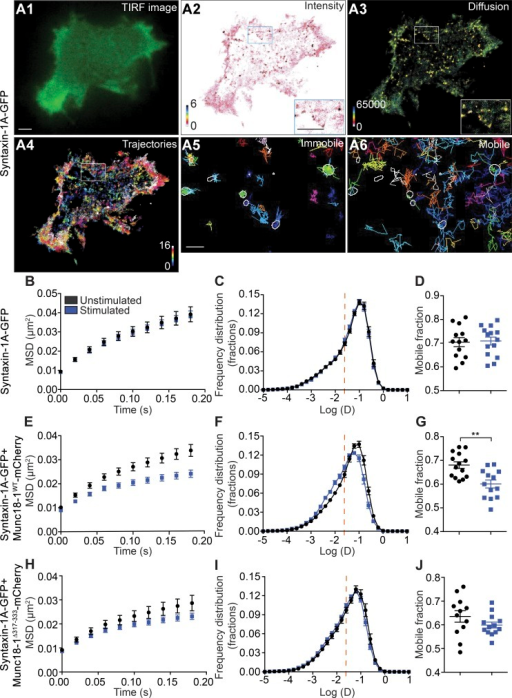 © Copyright Policy - openaccess
License 1 - License 2


getmorefigures.php?uid=PMC5037406&req=5

Mentions: We next examined the effect of Munc18-1 expression on syntaxin-1A mobility in DKD-PC12 cells. We first expressed syntaxin-1A-GFP in these cells. TIRF imaging of syntaxin-1A-GFP revealed a relatively homogeneous staining of the plasma membrane with some apparent small puncta (Fig. 5 A1), similar to the pattern observed for Munc18-1 (Fig. 2 A1). To investigate syntaxin-1A-GFP mobility, we used universal point accumulation imaging in nanoscale topography (uPAINT; Giannone et al., 2010), as the C-terminal GFP tag is exposed to the extracellular space. When a low concentration of ATTO 647N–coupled anti-GFP nanobodies (Kubala et al., 2010) were added to the buffer, stochastic binding of the nanobodies to syntaxin-1A-GFP could be detected during live imaging (Giannone et al., 2010). The uPAINT superresolved intensity images revealed syntaxin-1A nanodomains on the plasma membrane (Fig. 5 A2), as previously described (Lang et al., 2001). Tracking of individual molecules and mapping of their trajectories and instantaneous diffusion coefficients also revealed a high level of heterogeneity (Fig. 5, A3 and A4). Most punctate structures were formed by trajectories exhibiting low diffusion coefficients (Fig. 5 A5). Freely moving molecules were less associated with these nanodomains (Fig. 5 A6). The MSD was calculated for the trajectories of individual syntaxin-1A-GFP molecules to assess potential changes in caging in response to Ba2+ stimulation. In DKD-PC12 cells, no significant change was detected in either the MSD or the distribution of diffusion coefficients in response to stimulation (Fig. 5, B and C), as also quantified using the mobile fraction (Fig. 5 D) and area under the MSD curves (Fig. 3 B). Expression of Munc18-1WT-mCherry resulted in a reduced MSD of syntaxin-1A-GFP diffusion in unstimulated cells (Fig. 5, E–G). Moreover, the MSD of syntaxin-1A-GFP was significantly reduced in response to Ba2+ stimulation, demonstrating that the cage size of syntaxin-1A was also reduced during activity (Figs. 3 B and 5 E). Importantly, the distribution of the diffusion coefficients was also altered by stimulation, leading to a concomitant increase in the immobile fraction and a decrease in the mobile fraction (Fig. 5, F and G). We previously demonstrated that the expression of Munc18-1Δ317-333 is able to fully rescue syntaxin-1A transport to the plasma membrane in DKD-PC12 cells (Martin et al., 2013). We therefore asked whether this mutant could also control the activity-dependent change in syntaxin-1A mobility. Although we observed a slight reduction in mobility, this was not significantly different from the unstimulated condition, suggesting that the hinge-loop deletion mutant lacks the ability to control syntaxin-1A mobility (Fig. 3 B and Fig. 5, H–J). These results were confirmed by sptPALM of syntaxin-1A-mEos2 cotransfected with untagged Munc18-1WT or Munc18-1Δ317-333 (Fig. S4).