The Munc18-1 domain 3a hinge-loop controls syntaxin-1A nanodomain assembly and engagement with the SNARE complex during secretory vesicle priming
ABSTRACT
---
Kasula et al. use single-molecule imaging to reveal the diffusional signature for the SNARE proteins Munc18-1 and syntaxin-1A during secretory vesicle priming. The authors show that a conformational change in the Munc18-1 domain 3a hinge-loop regulates engagement of syntaxin-1A in the SNARE complex.
No MeSH data available.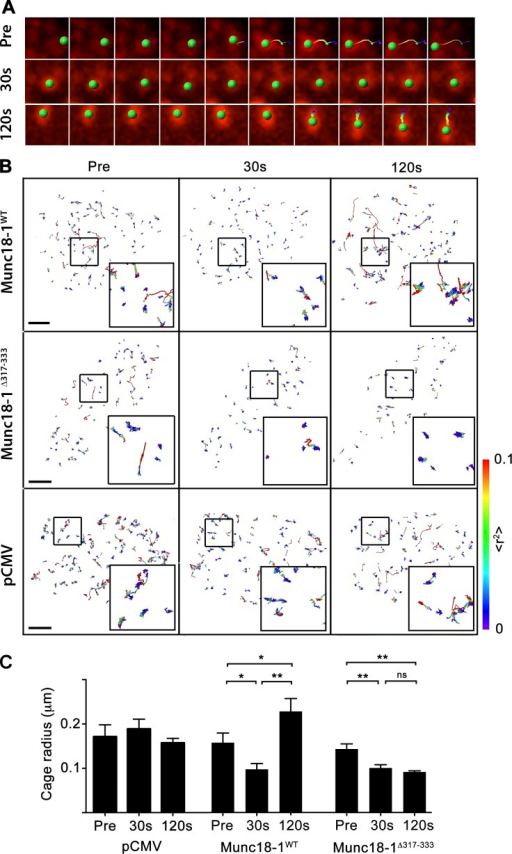 © Copyright Policy - openaccess
License 1 - License 2


getmorefigures.php?uid=PMC5037406&req=5

Mentions: We, and others, have revealed that a hinge-loop region within Munc18-1 domain 3a plays a key role in SV exocytosis without affecting the role of Munc18-1 in the transport of syntaxin-1A to the plasma membrane (Han et al., 2013; Martin et al., 2013). Because Munc18-1 has previously been shown to control SV docking in neurosecretory cells (Voets et al., 2001; Toonen et al., 2006), we tested whether expression of Munc18-1Δ317-333, a Munc18-1 deletion mutant lacking 17 residues of the domain 3a hinge-loop, could rescue the docking of SVs in DKD-PC12 cells. SVs in DKD-PC12 cells lack the ability to dock at the plasma membrane and to undergo regulated fusion, but fusion can be rescued by reexpressing GFP-Munc18-1 (Martin et al., 2013). Tracking individual SVs containing secretory neuropeptide Y fused to mCherry (NPY-mCherry) in DKD-PC12 cells by total internal reflection fluorescence (TIRF) microscopy before and after secretagogue stimulation did not reveal any notable change in mobility (Fig. 1). In contrast, expression of Munc18-1WT in these cells rescued SV docking, as demonstrated by a significant reduction in SV mobility in the first 30 s of stimulation (Fig. 1, A and B). This effect, which was indicated by a significant decrease in SV confinement area (cage size) calculated from the mean squared displacement (MSD) of individual SV trajectories (Fig. 1 C), was transient, as it was no longer detected 120 s after the onset of stimulation (Fig. 1 C). We noticed that the cage radius at 120 s was significantly larger than that of the prestimulation condition. This could be caused by vesicle replenishment, a process that requires active movement of SVs toward the plasma membrane (Maucort et al., 2014). Importantly, expression of Munc18-1Δ317-333 resulted in a complete rescue of SV docking at 30 s, but remarkably, the undocking of SVs was impaired, as their mobility remained restricted after 120 s. The rescue of a docking phenotype through expression of either Munc18-1WT or Munc18-1Δ317-333 was confirmed by electron microscopy (Fig. S1).