Experimental factors affecting the robustness of DNA methylation analysis
ABSTRACT
---
Diverging methylation frequencies are often reported for the same locus in the same disease, underscoring the need for limiting technical variability in DNA methylation analyses. We have investigated seven likely sources of variability at different steps of bisulfite PCR-based DNA methylation analyses using a fully automated quantitative methylation-specific PCR setup of six gene promoters across 20 colon cancer cell lines. Based on >15,000 individual PCRs, all tested parameters affected the normalized percent of methylated reference (PMR) differences, with a fourfold varying magnitude. Additionally, large variations were observed across the six genes analyzed. The highest variation was seen using single-copy genes as reference for normalization, followed by different amounts of template in the PCR, different amounts of DNA in the bisulfite reaction, and storage of bisulfite converted samples. Finally, when a highly standardized pipeline was repeated, the difference in PMR value for the same assay in the same cell line was on average limited to five (on a 0–100 scale). In conclusion, a standardized pipeline is essential for consistent methylation results, where parameters are kept constant for all samples. Nevertheless, a certain level of variation in methylation values must be expected, underscoring the need for careful interpretation of data.
No MeSH data available.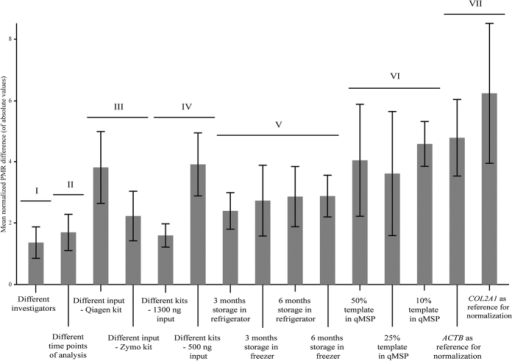 © Copyright Policy - open-access
License
getmorefigures.php?uid=PMC5037394&req=5
Mentions: To identify the parameters that in total (i.e. across the six assays and 20 cell lines) induced the largest differences in PMR values, the average of the normalized PMR difference values (Fig. 3) was calculated. The results are shown in Fig. 4. In accordance with Fig. 2, the reference for normalization (VII) caused the highest mean normalized PMR difference, with 6.2 and 4.8 for COL2A1 and ACTB, respectively. Of particular notice, use of ACTB caused an approximate doubling of PMR values for all assays in Colo320 cells and a halving in V9P cells, while COL2A1 resulted in a doubling of PMR values in LS1034 cells (Supplementary Table S4). Varying the amount of template in the qMSP (VI) also caused high mean normalized PMR differences; 4.1, 3.6 and 4.6 when reducing the default template amount to 50%, 25%, and 10%, respectively. Storage of bisulfite converted DNA (V) resulted in mean normalized PMR differences between 2.4 and 2.9. Different amounts of input DNA in the bisulfite conversion reaction gave a mean normalized PMR difference of 3.8 (Qiagen kit) and 2.2 (Zymo kit). The corresponding values for different bisulfite kits (IV) were 1.6 for 1300 ng input, and 3.9 for 500 ng input. The mean normalized PMR differences for different investigators (I) and different time points of analysis (II) were the lowest among the tested parameters with 1.4 and 1.7, respectively. Overall, the magnitude of the normalized PMR difference caused by a specific parameter varied considerably (Fig. 4). Even from repeated analyses using identical parameters (represented by 'different time points of analysis (II)'), the absolute difference between two corresponding PMR values (ΔPMR) ranged from 0 to 29, with a 95th percentile of 13, a mean of five, and a median of four. In comparison, from use of variable template amount in the qMSP (i.e. 10% input in qMSP vs. default) the ΔPMR range was 0–62, with a 95th percentile of 46, a mean of 15, and a median of 10 (Supplementary Fig. S3).