BK channel agonist represents a potential therapeutic approach for lysosomal storage diseases
ABSTRACT
---
Efficient lysosomal Ca2+ release plays an essential role in lysosomal trafficking. We have recently shown that lysosomal big conductance Ca2+-activated potassium (BK) channel forms a physical and functional coupling with the lysosomal Ca2+ release channel Transient Receptor Potential Mucolipin-1 (TRPML1). BK and TRPML1 forms a positive feedback loop to facilitate lysosomal Ca2+ release and subsequent lysosome membrane trafficking. However, it is unclear whether the positive feedback mechanism is common for other lysosomal storage diseases (LSDs) and whether BK channel agonists rescue abnormal lysosomal storage in LSDs. In this study, we assessed the effect of BK agonist, NS1619 and NS11021 in a number of LSDs including NPC1, mild cases of mucolipidosis type IV (ML4) (TRPML1-F408∆), Niemann-Pick type A (NPA) and Fabry disease. We found that TRPML1-mediated Ca2+ release was compromised in these LSDs. BK activation corrected the impaired Ca2+ release in these LSDs and successfully rescued the abnormal lysosomal storage of these diseases by promoting TRPML1-mediated lysosomal exocytosis. Our study suggests that BK channel activation stimulates the TRPML1-BK positive reinforcing loop to correct abnormal lysosomal storage in LSDs. Drugs targeting BK channel represent a potential therapeutic approach for LSDs.
No MeSH data available.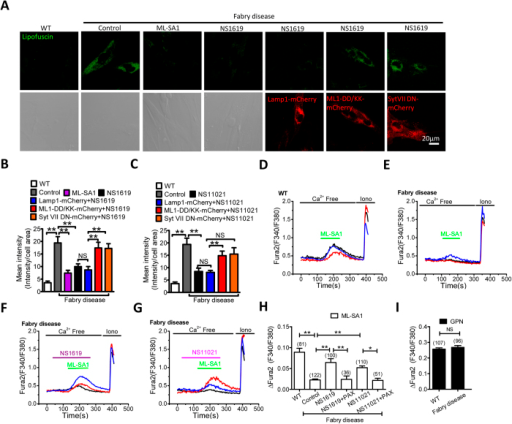 © Copyright Policy - open-access
License
getmorefigures.php?uid=PMC5037385&req=5
Mentions: All LSD models used above have been shown to display a compromised TRPML1 activity. To test whether BK therapy could be a general treatment for the majority of LSDs, we aimed to assess the effect of BK agonists on another LSD model where TRPML1 function has not been measured. Fabry disease is an inherited LSD involving dysfunctional metabolism of sphingolipids. The disease accumulates storage material and leads to a wide range of systemic symptoms including kidney, heart, dermatological and neurologic defects2829. As shown in Fig. 7A, human skin fibroblasts from Fabry disease patients (GM00107)28 displayed a much higher level of lipofuscin autofluoresence compared to wild type human fibroblasts, and this was decreased by activating TRPML1 with ML-SA1 (15 μM, 16 h), and by activating BK with NS1619 (15 μM, 16 h) or NS11021 (3 μM, 16 h) (Fig. 7 A–C), respectively. The rescue effect of NS1619 or NS11021 was abolished by expressing TRPML1-DD/KK or Syt VII DN, suggesting that BK upregulation-mediated lipofuscin reduction is dependent on TRPML1-mediated lysosomal exocytosis. In agreement with this, we found that TRPML1 activity was inhibited in cells from Fabry disease patient, as indicated by a decrease in TRPML1-meidated lysosomal Ca2+ release in respond to ML-SA1 (Fig. 7D,E,H). In addition, NS1619 (15 μM) or NS11021 (3 μM) rescued TRPML-mediated lysosomal Ca2+ release, and this was abolished by inhibiting BK with Paxilline (3 μM) (Fig. 7F,G,H). Notably, GPN-induced lysosomal Ca2+ release was comparable, indicating a similar level of lysosomal Ca2+ content between cells from Fabry disease patient and WT cells (Fig. 7I). Taken together, these data suggest that BK upregulation reduce lipofuscin accumulation in Fabry disease via increasing TRPML1-mediated lysosomal exocytosis.