BK channel agonist represents a potential therapeutic approach for lysosomal storage diseases
ABSTRACT
---
Efficient lysosomal Ca2+ release plays an essential role in lysosomal trafficking. We have recently shown that lysosomal big conductance Ca2+-activated potassium (BK) channel forms a physical and functional coupling with the lysosomal Ca2+ release channel Transient Receptor Potential Mucolipin-1 (TRPML1). BK and TRPML1 forms a positive feedback loop to facilitate lysosomal Ca2+ release and subsequent lysosome membrane trafficking. However, it is unclear whether the positive feedback mechanism is common for other lysosomal storage diseases (LSDs) and whether BK channel agonists rescue abnormal lysosomal storage in LSDs. In this study, we assessed the effect of BK agonist, NS1619 and NS11021 in a number of LSDs including NPC1, mild cases of mucolipidosis type IV (ML4) (TRPML1-F408∆), Niemann-Pick type A (NPA) and Fabry disease. We found that TRPML1-mediated Ca2+ release was compromised in these LSDs. BK activation corrected the impaired Ca2+ release in these LSDs and successfully rescued the abnormal lysosomal storage of these diseases by promoting TRPML1-mediated lysosomal exocytosis. Our study suggests that BK channel activation stimulates the TRPML1-BK positive reinforcing loop to correct abnormal lysosomal storage in LSDs. Drugs targeting BK channel represent a potential therapeutic approach for LSDs.
No MeSH data available.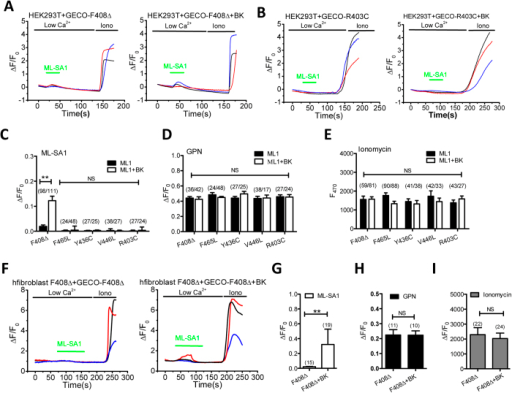 © Copyright Policy - open-access
License
getmorefigures.php?uid=PMC5037385&req=5
Mentions: Although all ML4 patients are characterized by motor impairment, mental retardation, and retinal degeneration, the severity of the phenotypes are different depending on the type of mutation38. Some mutations result in complete absence of TRPML1 or nonfunctional TRPML1, such as V446L, D362Y and T232P. Some mutations affect the ion conducting pore, leading to compromised channel activity, such as F408∆, F465L and R403C8. Some mutations appear to affect localization of the proteins, such as L447P, V446L, R403C and D362Y3. Mutant TRPML1 isoforms that remain correctly localized but may be largely compromised could be good candidates for a small molecule therapeutic approach, such as F408∆38. Given that BK overexpression7 or activation (Fig. 3) facilitates TRPML1 activity, we speculate that upregulating BK may rescue phenotypes of cells with compromised TRPML1 activity but relatively correct localization (F408∆). To test this hypothesis, we introduced five ML4 disease-related mutations (F408∆, F465L, R403C, Y436C, V446L) into the GECO-TRPML1, and then tested whether BK overexpression or activation increases mutant GECO-TRPML1 response in intact cells. We observed a significant GECO signal in F408∆ but not other ML4 mutations (R403C, F465L, Y436C and V446L) in response to ML-SA1 (Fig. 4A–C). The difference in GECO signal observed in these ML4 mutants was not caused by a change in lysosomal Ca2+ content (Fig. 4D) or in GECO overexpression level, which was indicated by the maximal fluorescence increase induced by ionomycin (1 μM, with 2 mM Ca2+ in the bath)4 (Fig. 4E). In agreement with these, patients carrying F408∆ mutation have mild phenotypes whereas those carrying R403C, F465L, Y436C, V446L mutations have severe phenotypes8. Interestingly, the compromised GECO response to ML-SA1 in GECO-TRPML1-F408∆ was partially corrected by BK overexpression (Fig. 4A,C). Consistently, BK overexpression significantly increased GECO response to ML-SA1 in F408∆ patient fibroblasts transfected with GECO-TRPML1-F408∆ (Fig. 4F,G), while lysosomal content (Fig. 4H) and GECO-TRPML1-F408∆ overexpression (Fig. 4I) were not altered by BK overexpression. These results suggest that BK potentiates the activity of TRPML1 carrying F408∆ mutation that exhibits relatively significant channel activity and correct localization. This effect was not seen in other ML4 mutants that are either dysfunctional or mis-targeted.