Switching from weakly to strongly limited injection in self-aligned, nano-patterned organic transistors
ABSTRACT
---
Organic thin-film transistors for high frequency applications require large transconductances in combination with minimal parasitic capacitances. Techniques aiming at eliminating parasitic capacitances are prone to produce a mismatch between electrodes, in particular gaps between the gate and the interlayer electrodes. While such mismatches are typically undesirable, we demonstrate that, in fact, device structures with a small single-sided interlayer electrode gap directly probe the detrimental contact resistance arising from the presence of an injection barrier. By employing a self-alignment nanoimprint lithography technique, asymmetric coplanar organic transistors with an intentional gap of varying size (< 0.2 μm) between gate and one interlayer electrode are fabricated. An electrode overlap exceeding 1 μm with the other interlayer has been kept. Gaps, be them source or drain-sided, do not preclude transistor operation. The operation of the device with a source-gate gap reveals a current reduction up to two orders of magnitude compared to a source-sided overlap. Drift-diffusion based simulations reveal that this marked reduction is a consequence of a weakened gate-induced field at the contact which strongly inhibits injection.
No MeSH data available.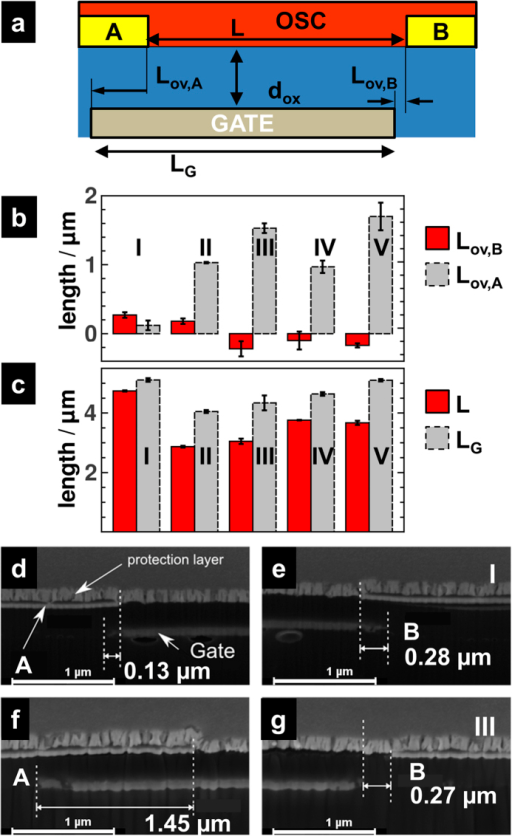 © Copyright Policy - open-access
License
getmorefigures.php?uid=PMC5037384&req=5
Mentions: The quest for flexible, light-weight, unbreakable electronics at relatively low cost triggered intense research on organic thin-film transistors (OTFTs) that are an integral part of applications like integrated circuits12, RFID tags34 and OTFT-driven display backplanes56. The steep rise in switching speeds or on-current level is due to the development of better performing materials and careful consideration of critical device geometry parameters7. In particular for boosting the speed of operation it is crucial to improve not only the transconductance, but to simultaneously minimize the parasitic capacitance due to interlayer electrode overlaps, i.e., geometric overlaps between source/drain and gate electrode8910. Considering that self-alignment patterning techniques1112131415 approach the limit of nearly zero overlap910 the questions arises, how OTFTs operate if structuring techniques cause the formation of a small gap between the gate and source electrode rather than an overlap. This apparently technology-driven question attains, in fact, fundamental importance when considering a crucial aspect in which OTFTs differ from their inorganic counterparts: The operation of thin-film transistors relies on controlling the current via accumulation of charges at the semiconducting-insulator interface due to a gate-source bias. However, at least as important is the ability to efficiently inject charge carriers, since pristine organic semiconductors lack mobile charges due to their wide band gap78. If an injection barrier is present, the gate-source bias controls also the injection current, since local, essentially gate-induced fields near the contact lower the Schottky barrier161718. Opening a gap between source and gate electrode can thus be expected to affect both fundamental requirements, because the electric field available, (i), for charge accumulation and, (ii), for lowering the Schottky barrier is inevitably reduced. The impact of the gap is likely to be particularly severe in coplanar transistor architectures. As source and drain electrodes are located directly at the interface between the organic semiconductor (OSC) and the dielectric layer (as depicted in Fig. 1a), charge injection and transport occur, in essence, exclusively along this interface. Thus, a small gap weakens the gate-induced electric field in a confined but most decisive region, i.e., where the two field-dependent processes of injection and accumulation ought to take place.