An Automated Microwell Platform for Large-Scale Single Cell RNA-Seq
ABSTRACT
---
Recent developments have enabled rapid, inexpensive RNA sequencing of thousands of individual cells from a single specimen, raising the possibility of unbiased and comprehensive expression profiling from complex tissues. Microwell arrays are a particularly attractive microfluidic platform for single cell analysis due to their scalability, cell capture efficiency, and compatibility with imaging. We report an automated microwell array platform for single cell RNA-Seq with significantly improved performance over previous implementations. We demonstrate cell capture efficiencies of >50%, compatibility with commercially available barcoded mRNA capture beads, and parallel expression profiling from thousands of individual cells. We evaluate the level of cross-contamination in our platform by both tracking fluorescent cell lysate in sealed microwells and with a human-mouse mixed species RNA-Seq experiment. Finally, we apply our system to comprehensively assess heterogeneity in gene expression of patient-derived glioma neurospheres and uncover subpopulations similar to those observed in human glioma tissue.
No MeSH data available.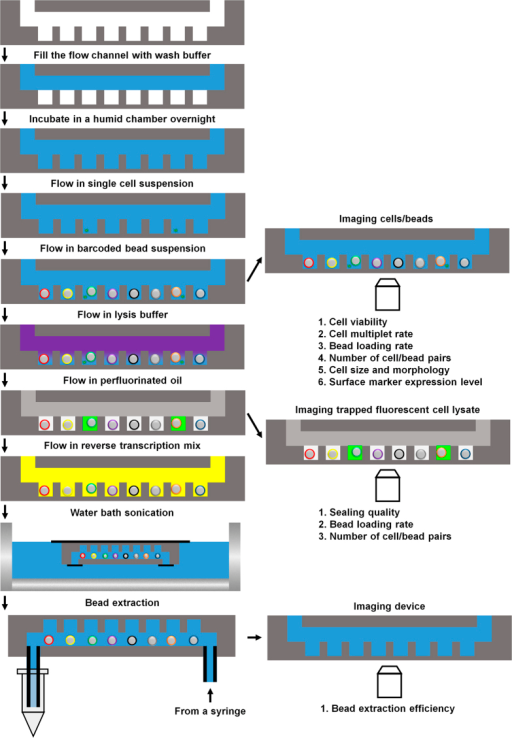 © Copyright Policy - open-access
License
getmorefigures.php?uid=PMC5037380&req=5
Mentions: Microwell arrays are fabricated in polydimethylsiloxame (PDMS) using standard soft lithography. Device design is highly flexible- we fabricate large arrays containing 15,000–150,000 microwells. Multiple arrays can be arranged as "lanes" on a single device for multiplexing9. In addition, the size of the microwells can be customized for different cell types. In the experiments described here, we use devices containing 150,000 cylindrical microwells that are 50 μm in diameter and 58 μm in height (~100 pL in volume), which accommodates most mammalian cell types. Figure 1 illustrates the experimental work flow. New devices are first wet with a detergent-containing buffer followed by gravity-assisted cell loading. When dealing with specimens containing a small number of cells such as core biopsies or subpopulations isolated by flow sorting or laser capture microdissection, cell suspensions loaded into the device can be agitated with laminar flow to increase the fraction of cells captured by the microwell array. This process can be automated simply by connecting one end of the microwell flow cell to a standard syringe pump and reversing the flow direction repeatedly as the cells sink into the microwells (Fig. 2A,B, Supplementary Video S1). We have used this procedure to achieve cell capture efficiencies >50%, making our system particularly useful for large-scale profiling from samples containing relatively few cells. To minimize the number of microwells containing more than one cell, we typically load <10% of the microwells. After loading the microwells, cells can be imaged with an optical microscope to assess cell viability, multiplet capture rate, cell size distribution and morphology, and surface marker composition. For mRNA capture, we load polymer beads to which barcoded oligo(dT) primers have been attached. The diameter of the beads is larger than the microwell radius, making it unlikely for more than one bead to enter a microwell and therefore facilitating high-density loading (Fig. 2C). After both cells and beads have been loaded into the device, another scan of the device can be performed to measure bead loading rate and the number of cell/bead pairs. The 5′-ends of the oligo(dT) primers contain a universal adapter sequence for amplification, a barcode sequence that is unique to the bead, and a second barcode sequence for uniquely labeling a captured cDNA molecule (unique molecular identifier or UMI)72021. The beads can capture the poly(A) tails of mature mRNA messages from eukaryotic cells and solid-phase reverse transcription results in labeling of the cDNA product with a barcode. We have demonstrated single cell RNA-Seq in PDMS microwells using capture beads that contain specific barcode sequences generated by combinatorial primer extension9 and, in this report, using the random barcodes sequences generated by split-pool solid phase oligonucleotide synthesis7. While the former have the advantage of a pre-determined sequence that can be optimized for correcting sequencing errors and other features9, the latter are commercially available7.