Expanded graphite embedded with aluminum nanoparticles as superior thermal conductivity anodes for high-performance lithium-ion batteries
ABSTRACT
---
The development of high capacity and long-life lithium-ion batteries is a long-term pursuing and under a close scrutiny. Most of the researches have been focused on exploring electrode materials and structures with high store capability of lithium ions and at the same time with a good electrical conductivity. Thermal conductivity of an electrode material will also have significant impacts on boosting battery capacity and prolonging battery lifetime, which is, however, underestimated. Here, we present the development of an expanded graphite embedded with Al metal nanoparticles (EG-MNPs-Al) synthesized by an oxidation-expansion process. The synthesized EG-MNPs-Al material exhibited a typical hierarchical structure with embedded Al metal nanoparticles into the interspaces of expanded graphite. The parallel thermal conductivity was up to 11.6 W·m−1·K−1 with a bulk density of 453 kg·m−3 at room temperature, a 150% improvement compared to expanded graphite (4.6 W·m−1·K−1) owing to the existence of Al metal nanoparticles. The first reversible capacity of EG-MNPs-Al as anode material for lithium ion battery was 480 mAh·g−1 at a current density of 100 mA·g−1, and retained 84% capacity after 300 cycles. The improved cycling stability and system security of lithium ion batteries is attributed to the excellent thermal conductivity of the EG-MNPs-Al anodes.
No MeSH data available.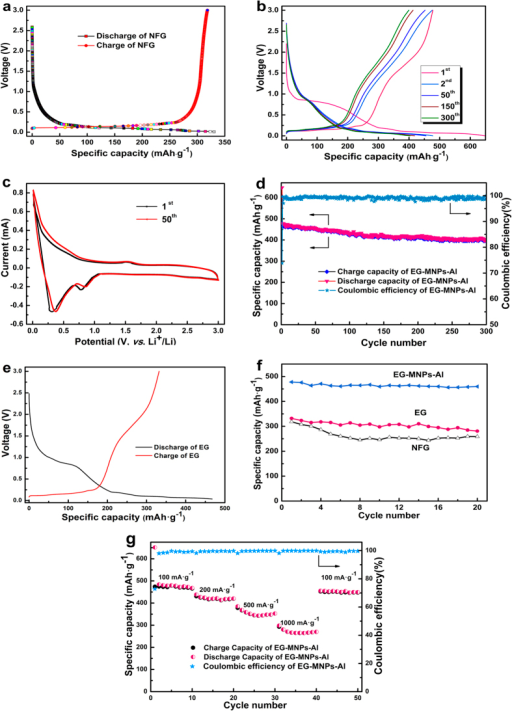 © Copyright Policy - open-access
License
getmorefigures.php?uid=PMC5037376&req=5
Mentions: The galvanostatic charge-discharge profiles of Li-ion batteries were measured to evaluate the electrochemical properties with respect to Li+ insertion/extraction of the EG-MNPs-Al-3 material (the next contents use the same samples) at the current density of 100 mA·g−1 within a potential window of 0.01~3.0 V vs. Li/Li+ (Fig. 5). Figure 5a shows the initial charge-discharge profiles of NFG. It presents the typical insertion/extraction properties of highly crystalline graphite electrode materials and a reversible capacity of 318 mAh·g−1 was obtained. The charge-discharge curves of the EG-MNPs-Al electrode are presented in Fig. 5b. The initial charge and discharge capacities of EG-MNPs-Al is 647 mAh·g−1 and 480 mAh·g−1 respectively, which are much higher than those of NFG (Fig. 5a). The particular hierarchical structure of the EG-MNPs-Al material, especially the insertion of Al metal, gives rise to the large reversible capacity. Furthermore, the initial charge-discharge curves of EG-MNPs-Al shown in Fig. 5b are significantly different from that of NFG, indicating that the accommodation of lithium into NFG and EG-MNPs-Al materials are different. The voltage plateau at about 0.80 V vs. Li/Li+ of the first discharge curve of EG-MNPs-Al, represents the generation of irreversible capacity, which can be attributed to the electrolyte decomposition and the formation of a solid electrolyte interface (SEI) film on the electrode surface141538. Typically, the insertion/extraction curves of EG-MNPs-Al imply the presence of four stages corresponding to four different Li-storage sites, i.e., a voltage plateau lower than 0.25 V (vs. Li/Li+), monotonic sloping voltage curve between 0.25 and 0.8 V (vs. Li/Li+), an inclined plateau from 0.8 to 1.6 V (vs. Li/Li+), and the slope curve above 1.6 V (vs. Li/Li+). According to previous studies313940, the low-voltage plateau (0.25 V) may be assigned to the formation of Li-Al alloys and the Li+ insertion/extraction in the pores or defects, whereas the monotonic profile between 0.25~0.8 V is associated with the intercalation of Li+ between graphite layers in EG-MNPs-Al. The sloping plateau from 0.8 to 1.6 V may be due to the interaction between Li+ and the hydrogen-terminated dangling bonds40. The slope curve above 1.6 V could be possibly attributed to the faradic capacitance either on the surface of graphite layers or on the edge planes16. It is clear that the theoretical capacity of graphite electrode is 372 mAh·g−1, which corresponds to the formation of Li-graphite intercalation compound (Li-GIC, i.e., LiC6). However, as shown in Fig. 5b, the charge/discharge capacity of EG-MNPs-Al is much higher than 372 mAh·g−1. This result suggests that LiC6 compound is not sufficient to explain such a high storage capacity. Therefore, other mechanisms such as the formation of Li-Al alloy for the storage of lithium ion species becomes possible. Figure 5c exhibits the CVs of 1st and 50th cycles at a scan rate of 0.1 mV·s−1. Two reduction peaks (at 0.28 V and 0.78 V) and one oxidation peak (at 1.56 V) are observed, which might be ascribed to the formation of LixAl (x = 1~2.25) alloys based on the alloy phase diagrams31. The two reduction peaks present the dissolution and reduction of Al with lithium, and the oxide peak is associated with the conversion to a LixAl alloy. Although the CVs could illustrate the formation of LixAl alloy in this anode material, further systematic works would be needed in the future. Both anodic and cathodic peaks are positively shifted, which might be attributed to polarization of the electrode materials in the cycles. This anode material shows very stable repeatability after 50 cycles, signifying that the EG-MNPs-Al anode has a high reversible capacity and long cycling life. It was in agreement with the charge-discharge curves (Fig. 5b).