Coupling of radiofrequency with magnetic nanoparticles treatment as an alternative physical antibacterial strategy against multiple drug resistant bacteria
ABSTRACT
---
Antibiotic resistant bacteria not only affect human health and but also threatens the safety in hospitals and among communities. However, the emergence of drug resistant bacteria is inevitable due to evolutionary selection as a consequence of indiscriminate antibiotic usage. Therefore, it is necessary to develop a novel strategy by which pathogenic bacteria can be eliminated without triggering resistance. We propose a novel magnetic nanoparticle-based physical treatment against pathogenic bacteria, which blocks biofilm formation and kills bacteria. In this approach, multiple drug resistant Staphylococcus aureus USA300 and uropathogenic Escherichia coli CFT073 are trapped to the positively charged magnetic core-shell nanoparticles (MCSNPs) by electrostatic interaction. All the trapped bacteria can be completely killed within 30 min owing to the loss of membrane potential and dysfunction of membrane-associated complexes when exposed to the radiofrequency current. These results indicate that MCSNP-based physical treatment can be an alternative antibacterial strategy without leading to antibiotic resistance, and can be used for many purposes including environmental and therapeutic applications.
No MeSH data available.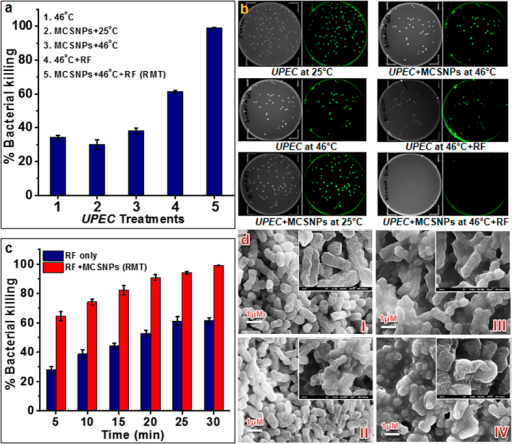 © Copyright Policy - open-access
License
getmorefigures.php?uid=PMC5037373&req=5
Mentions: The antibacterial or bacteriostatic properties of various nanoparticles such as silver, zinc oxide, titanium oxide, copper, aluminum, and iron have been reported and reviewed recently12. However, since not many studies have followed the protocol of the Clinical and Laboratory Standard Institute (CSLI)39, their antibacterial or bacteriostatic potential cannot be evaluated properly. Furthermore, it has been also reported that metallic Ag-NPs inherently possess negligible antibacterial activity and their broad range of toxicity to cells are mainly attributed to the release of silver ions40. Therefore, NPs themselves seem to not be practically useful as potent antibacterial agents. As an alternative approach, radiofrequency radiation (RFR) at 2450 MHz has been reported to kill Bacillus anthracis due to ROS generation41. Based on these results, we hypothesized that the combination of NPs and RF may enhance the antibacterial effect as it has been known that the coupling of NPs with electromagnetic energy can be used for a wide range of medical applications212224. To test this possibility, we introduced radiofrequency coupled magnetic nanoparticle treatment (RMT) by exposing magnetic nanoparticles to radiofrequency (RF) current using a CET system. To the best of our knowledge, the coupling of radiofrequency with NPs for antibacterial purposes has not been explored. In this setting, solutions containing bacteria were exposed to radiofrequency in the presence of MCSNPs (RMT group) or the absence of MCSNPs (RF group). The quantitative and qualitative assessment of killing efficiencies of RMT versus RF were estimated by counting the colony forming units (CFU) and live/dead staining, respectively. Bacterial death was observed after the microbes were exposed to the heat released from the NPs during RF conditions. However, to examine the sole effect of RF on bacterial killing, temperature was maintained at a constant value by adjusting the radiofrequency power. As a control, the conditions for 100% bacterial killing were optimized by testing varying concentrations of MCSNPs, exposure times, and incubation temperatures and the following optimal conditions were determined: 1 × 108UPEC cells were treated with 1 mg/mL MCSNPs (10 pg per cell equivalent) and exposed to 0.4 MHz RF at 46 °C for 30 min (Fig. 4a). Then, the killing efficiency of the control condition was compared at 25 °C (RT) and 46 °C in the absence or presence of MCSNPs. UPEC incubated at 46 °C for 30 min showed 37% killing, while MCSNP-trapped bacteria at 25 °C and at 46 °C showed about 30% and 40% killing, respectively (Fig. 4a,b). Free bacteria without MCSNPs with RF at 46 °C showed 60% killing while RMT killed 100% bacteria within 30 min at 46 °C (Fig. 4a,b). The higher killing efficiency of RMT was also examined by live/dead staining of UPEC and microscopic observation, and there was no indication of live bacteria observed after RMT treatment (Supplementary Figure S7). To estimate the effectiveness of RF coupled to MCSNPs, time dependent killing was monitored during RF versus RMT. The bacterial killing efficiency in the initial 5 min of RF and RMT were found to be 28% and 65%, respectively. Bacterial killing efficiency increased with exposure time and 60% and 100% killing were achieved within 30 min for RF and RMT treatments, respectively (Fig. 4c). To perceive the phenotypic alteration during RF versus RMT along with other controls i.e. UPEC at 25 °C and 46 °C, the exposed cells were subjected to scanning electron microscopy (SEM). SEM images showed alteration in bacterial cell surfaces during RMT (Fig. 4d–IV) compared to 25 °C, 46 °C, and RF controls (Fig. 4d I-III) where the RMT treated bacteria showed changes in cell surface morphology (Fig. 4d–IV) compared to the corresponding controls.