Arachidonic acid mediates the formation of abundant alpha-helical multimers of alpha-synuclein
ABSTRACT
---
The protein alpha-synuclein (αS) self-assembles into toxic beta-sheet aggregates in Parkinson's disease, while it is proposed that αS forms soluble alpha-helical multimers in healthy neurons. Here, we have made αS multimers in vitro using arachidonic acid (ARA), one of the most abundant fatty acids in the brain, and characterized them by a combination of bulk experiments and single-molecule Fӧrster resonance energy transfer (sm-FRET) measurements. The data suggest that ARA-induced oligomers are alpha-helical, resistant to fibril formation, more prone to disaggregation, enzymatic digestion and degradation by the 26S proteasome, and lead to lower neuronal damage and reduced activation of microglia compared to the oligomers formed in the absence of ARA. These multimers can be formed at physiologically-relevant concentrations, and pathological mutants of αS form less multimers than wild-type αS. Our work provides strong biophysical evidence for the formation of alpha-helical multimers of αS in the presence of a biologically relevant fatty acid, which may have a protective role with respect to the generation of beta-sheet toxic structures during αS fibrillation.
No MeSH data available.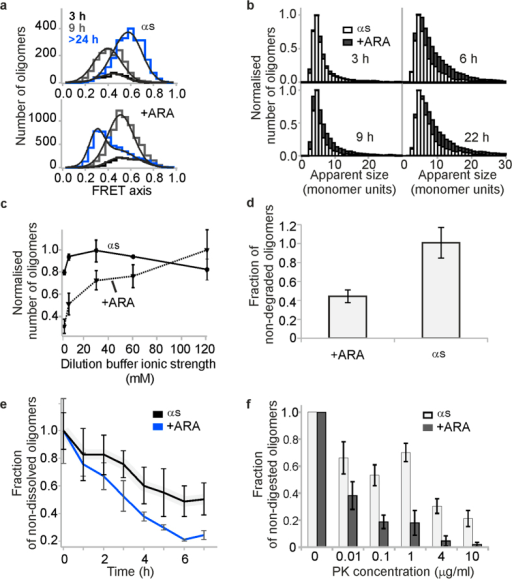 © Copyright Policy - open-access
License
getmorefigures.php?uid=PMC5037366&req=5
Mentions: Having determined by TEM that ARA-induced oligomers had different morphologies compared to αS-only oligomers, we further investigated the differences between these types of species (Fig. 3). Firstly, a closer inspection of the FRET efficiency histograms revealed clear differences (Fig. 3a). As it has already been mentioned, using sm-FRET method we previously characterized the oligomerization process of αS in buffer solution in great detail35363738. In these previous studies, we reproducibly observed the conversion of initially formed disordered oligomers of αS to a more stable and compact form, associated with the highest cytotoxicity. These two types of oligomers could be distinguished based on their FRET efficiency values (eq. 1). While the initially formed disordered oligomers had low FRET efficiency values, and thus termed 'low-FRET', the stable toxic oligomers had characteristic high FRET efficiency values, and were termed 'high-FRET' oligomers. Here, the FRET efficiency histograms obtained for the samples of αS-only oligomers were in good agreement with the previous results. As in previous studies, after 9 hours of incubation mainly disordered oligomers were present with the mean FRET efficiency value E = 0.4, whereas after 24 hours the majority of the population contained the stable oligomers with high FRET values, E = 0.6. In contrast, ARA-induced oligomers gave rise to FRET efficiency histograms that showed a single peak with E value of 0.5 after 9 hours of incubation, and a broad FRET distribution after 24 hours. Since the appearance of FRET efficiency histograms was found to be well-correlated with the stability of oligomeric aggregates in our previous work35, the observed differences of the FRET efficiency histograms of the ARA-induced multimers compared to αS oligomers in buffer solution could suggest differences in their stabilities, and possibly differences in their structures. In addition, αS oligomers formed in the presence of ARA were found to be larger in terms of average numbers of monomers per oligomer, particularly at later incubations times past 6 hours of incubation, as shown in Fig. 3b.