Arachidonic acid mediates the formation of abundant alpha-helical multimers of alpha-synuclein
ABSTRACT
---
The protein alpha-synuclein (αS) self-assembles into toxic beta-sheet aggregates in Parkinson's disease, while it is proposed that αS forms soluble alpha-helical multimers in healthy neurons. Here, we have made αS multimers in vitro using arachidonic acid (ARA), one of the most abundant fatty acids in the brain, and characterized them by a combination of bulk experiments and single-molecule Fӧrster resonance energy transfer (sm-FRET) measurements. The data suggest that ARA-induced oligomers are alpha-helical, resistant to fibril formation, more prone to disaggregation, enzymatic digestion and degradation by the 26S proteasome, and lead to lower neuronal damage and reduced activation of microglia compared to the oligomers formed in the absence of ARA. These multimers can be formed at physiologically-relevant concentrations, and pathological mutants of αS form less multimers than wild-type αS. Our work provides strong biophysical evidence for the formation of alpha-helical multimers of αS in the presence of a biologically relevant fatty acid, which may have a protective role with respect to the generation of beta-sheet toxic structures during αS fibrillation.
No MeSH data available.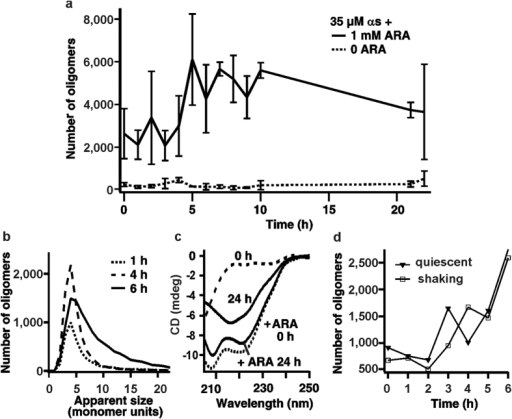 © Copyright Policy - open-access
License
getmorefigures.php?uid=PMC5037366&req=5
Mentions: The self-assembly of αS was monitored in solutions of 35 μM αS in the presence of 1 mM concentration of ARA, above the critical micellar concentration (CMC) of the acid2639. The samples were incubated under quiescent conditions, either in the presence or in the absence of ARA. Since the aggregation of pure αS in physiological buffer is known to be inefficient at quiescent conditions in vitro40, the oligomerization at 35 μM concentration of αS in the absence of ARA was negligible, and only a small increase in the numbers of detected oligomers was observed over a 24-hour incubation (Fig. 1a). In contrast, 35 μM αS incubated with 1 mM ARA showed a rapid formation of oligomers, judged by the presence of high levels of detected FRET events, recorded shortly after the addition of ARA (Fig. 1a). We confirmed the absence of any background fluorescence from the ARA solution in buffer. In addition, there was no apparent effect of ARA on the fluorescence signal from the fluorophores in the sm-FRET experiments, which was confirmed by performing control measurements using dual-labeled (AF488 and AF594) 40-base pair DNA samples, as detailed in Supplementary Fig. 2. Therefore, the initial rise in coincident events upon the addition of ARA to αS solution was due to the self-assembly of αS into multimers, which we will further refer to as 'ARA-induced oligomers'. The increase in the numbers of these species continued most rapidly for 6 hours, followed by a plateau and a subsequent slight decrease after 20 hours (Fig. 1a), which could be due to a partial disaggregation of the species or, alternatively, due to their higher-order association. In addition to the rise in the numbers of multimers with time, there was an identifiable increase in their average apparent sizes, observed from the broadening of the apparent size distributions (Fig. 1b). Typically, there was a progression towards larger species within first 6–7 hours of the experiment, and no subsequent change, suggesting that their formation reached a steady state within this time period.