DNA methylation profile of triple negative breast cancer-specific genes comparing lymph node positive patients to lymph node negative patients
ABSTRACT
---
Triple negative breast cancer (TNBC) is the most aggressive breast cancer subtype with no targeted treatment available. Our previous study identified 38 TNBC-specific genes with altered expression comparing tumour to normal samples. This study aimed to establish whether DNA methylation contributed to these expression changes in the same cohort as well as disease progression from primary breast tumour to lymph node metastasis associated with changes in the epigenome. We obtained DNA from 23 primary TNBC samples, 12 matched lymph node metastases, and 11 matched normal adjacent tissues and assayed for differential methylation profiles using Illumina HumanMethylation450 BeadChips. The results were validated in an independent cohort of 70 primary TNBC samples. The expression of 16/38 TNBC-specific genes was associated with alteration in DNA methylation. Novel methylation changes between primary tumours and lymph node metastases, as well as those associated with survival were identified. Altered methylation of 18 genes associated with lymph node metastasis were identified and validated. This study reveals the important role DNA methylation plays in altered gene expression of TNBC-specific genes and lymph node metastases. The novel insights into progression of TNBC to secondary disease may provide potential prognostic indicators for this hard-to-treat breast cancer subtype.
No MeSH data available.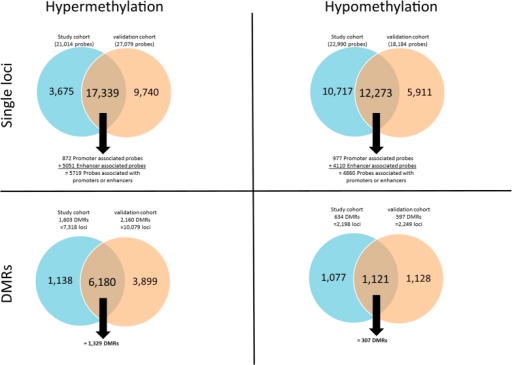 © Copyright Policy - open-access
License
getmorefigures.php?uid=PMC5037364&req=5
Mentions: By comparing the methylation of the IDC samples to the NAT samples we identified 44,005 differentially methylated probes in the study cohort (52.2% hypomethylated, 47.8% hypermethylated) and 45,263 probes in the validation cohort (40.2% hypomethylated, 59.8% hypermethylated). We validated 29,612 probes (=67.29%) in the independent validation cohort. Of the 29,612 validated probes, 41.4% were hypomethylated and 58.6% were hypermethylated. Within the validated probes there were 1,849 promoter-associated probes (52.8% hypomethylated, 47.2% hypermethylated) and 9,161 probes within enhancer regions (44.9% hypomethylated, 55.1% hypermethylated). In total, there were over 10,000 probes within enhancer or promoter regions that were significantly methylated. Performing a pathway enrichment analysis of these probes identified many important cancer pathways influenced by the respective genes. The pathways with the highest enrichment scores for hypomethylated genes were: Axon guidance, Rap1 signaling pathway, Platelet activation, Mucin type O-Glycan biosynthesis, and MAPK signaling pathway. The pathways with the highest enrichment scores for hypermethylated genes were: ECM-receptor interaction, Pathways in cancer, PI3K-Akt signaling pathway, focal adhesion, and signaling pathways regulating pluripotency of stem cells (Supplementary Table 1). We next identified differentially methylated regions (DMRs, a minimum of three significant consecutive probes). In the study cohort we identified 2,373 DMRs (10,082 probes) and in the validation cohort we identified 2,932 DMRs (12,938 probes), 72.62% (1,756 DMRs/7,523 probes) were common in both cohorts (Supplementary Table 2). The results of this analysis are shown in Fig. 1.