Onset of nonlinearity in a stochastic model for auto-chemotactic advancing epithelia
ABSTRACT
---
We investigate the role of auto-chemotaxis in the growth and motility of an epithelium advancing on a solid substrate. In this process, cells create their own chemoattractant allowing communications among neighbours, thus leading to a signaling pathway. As known, chemotaxis provokes the onset of cellular density gradients and spatial inhomogeneities mostly at the front, a phenomenon able to predict some features revealed in in vitro experiments. A continuous model is proposed where the coupling between the cellular proliferation, the friction on the substrate and chemotaxis is investigated. According to our results, the friction and proliferation stabilize the front whereas auto-chemotaxis is a factor of destabilization. This antagonist role induces a fingering pattern with a selected wavenumber k0. However, in the planar front case, the translational invariance of the experimental set-up gives also a mode at k = 0 and the coupling between these two modes in the nonlinear regime is responsible for the onset of a Hopf-bifurcation. The time-dependent oscillations of patterns observed experimentally can be predicted simply in this continuous non-linear approach. Finally the effects of noise are also investigated below the instability threshold.
No MeSH data available.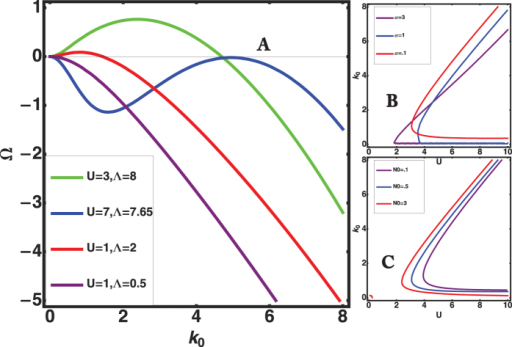 © Copyright Policy - open-access
License
getmorefigures.php?uid=PMC5037363&req=5
Mentions: with . The dispersion relation, equation (11), which predicts stable steady fronts for Ω < 0, is not easy to analyze owing to the implicit relation for the growth rate Ω, lw, le and χe also being functions of Ω. However, one easily notices that, proliferation alone (without chemotaxis) makes the front stable, Ω being negative, and the increase of the parameter Λ may induce an instability. Setting N0 = α = 1 and σ = 10−3, numerical investigations show the existence of stable patterns when Ω remains negative for all k values (purple curve of Fig. 4A). They also detect fully unstable patterns, out of reach of the present analysis (green and red curves where Ω > 0 for a finite interval of k values). For these two cases, we go directly from a stable planar front to a developed instability without periodic wavy patterns (a situation commonly encountered in diffusive instabilities such as dendritic growth17). Finally, from Fig. 4A, we can predict steady periodic patterns of finite amplitude (blue curve) since the spectrum exhibits the simultaneous cancellation of Ω and dΩ/dk. This requirement of double cancellation is mandatory for observation of steady undulating patterns. From this analysis, we deduce that a steady wavy-front with prescribed wavelength l0 and wavenumber k0 can be observed, travelling with a constant velocity U above a critical value of Λ called Λ0. Fixing the front velocity and the parameters σ, N0, α, as shown in Fig. 4B, or Fig. 4C, a pair of solutions for k0 can be numerically found so a pair of Λ values. This pattern at k0 can explain the fingering pattern observed in experiments1212. As for the mode observed at k = 0, it results from symmetries as the translational and Galilean invariances (called Goldstone mode). It will play an important role for the nonlinear analysis.