Control of cortex development by ULK4, a rare risk gene for mental disorders including schizophrenia
ABSTRACT
---
Schizophrenia is a debilitating familial neuropsychiatric disorder which affects 1% of people worldwide. Although the heritability for schizophrenia approaches 80% only a small proportion of the overall genetic risk has been accounted for, and to date only a limited number of genetic loci have been definitively implicated. We have identified recently through genetic and in vitro functional studies, a novel serine/threonine kinase gene, unc-51-like kinase 4 (ULK4), as a rare risk factor for major mental disorders including schizophrenia. Now using the approach of in utero gene transfer we have discovered that Ulk4 plays a key modulatory role in corticogenesis. Knockdown of Ulk4 leads to significantly decreased cell proliferation in germinal zones and profound deficits in radial migration and neurite ramification. These abnormalities can be reversed successfully by Ulk4 gene supplementation. Ulk4 also regulated acetylation of α-tubulin, an important post-translational modification of microtubules. We conclude that Ulk4 plays an essential role in normal brain development and when defective, the risk of neurodevelopmental disorders such as schizophrenia is increased.
No MeSH data available.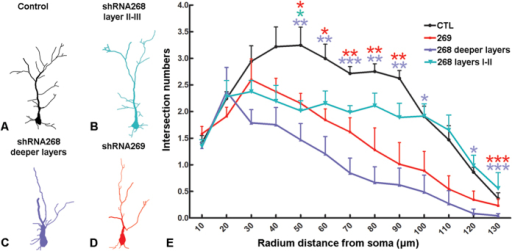 © Copyright Policy - open-access
License
getmorefigures.php?uid=PMC5037360&req=5
Mentions: In separate experiments, electroporation at E15.5 with low concentration of GFP (0.1μg/μl), which highlights fewer GFP-expressing neurons, was used to facilitate the morphological reconstruction of the GFP-expressing neurons by z-stack confocal scanning. In control cortex, the majority of cells in layers II–III presented the typical shape of pyramidal neurons, with a long apical dendrite branching out in an apical tuft which terminates in layer I (Fig. 4E). In the shRNA268 knockdown brains, most of the GFP-positive cells in the deeper layers developed stalled apical dendrites and had a poorly-formed apical tuft (Fig. 4C,D,F, white arrows). Intriguingly, some have an "ectopic" apical dendrite (Fig. 4C,F, white asterisks) and long secondary dendritic branching (Fig. 4F, white arrowheads) or an apical dendrite which did not stick out from the apex of the cell body (Fig. 4C, yellow arrow). We reconstructed and compared the dendritic trees between control and knockdown neurons using confocal microscopy. As expected, the GFP-labelled neurons in knockdown brains, regardless of position, presented significantly reduced dendrite network complexity (Fig. 5A–C,E, 41 cells from 6 control brains, 33 cells in layers II–III from 4 shRNA268 brains, 30 cells in deeper layers from 3 shRNA268 brains; **p < 0.01, *p < 0.05). This result is also in agreement with our previous observation that ULK4 deletion leads to a remarkable impairment of neuritogenesis in SHSY-5Y cells12.