Dissociation and Re-Aggregation of Multicell-Ensheathed Fragments Responsible for Rapid Production of Massive Clumps of Leptothrix Sheaths
ABSTRACT
---
Species of the Fe/Mn-oxidizing bacteria Leptothrix produce tremendous amounts of microtubular, Fe/Mn-encrusted sheaths within a few days in outwells of groundwater that can rapidly clog water systems. To understand this mode of rapid sheath production and define the timescales involved, behaviors of sheath-forming Leptothrix sp. strain OUMS1 were examined using time-lapse video at the initial stage of sheath formation. OUMS1 formed clumps of tangled sheaths. Electron microscopy confirmed the presence of a thin layer of bacterial exopolymer fibrils around catenulate cells (corresponding to the immature sheath). In time-lapse videos, numerous sheath filaments that extended from the periphery of sheath clumps repeatedly fragmented at the apex of the same fragment, the fragments then aggregated and again elongated, eventually forming a large sheath clump comprising tangled sheaths within two days. In this study, we found that fast microscopic fragmentation, dissociation, re-aggregation and re-elongation events are the basis of the rapid, massive production of Leptothrix sheaths typically observed at macroscopic scales.
No MeSH data available.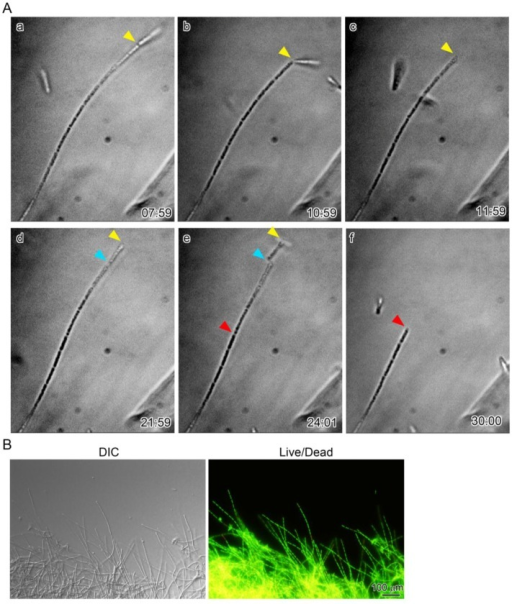 © Copyright Policy
License
getmorefigures.php?uid=PMC5037351&req=5
Mentions: According to van Veen et al. [5], shorter sheaths sometimes separated from the main sheath clump of L. ochracea, although no time scale for this separation was given. We therefore carefully monitored the multicell-ensheathed fragments at 5-min intervals as they extended from the periphery of a two-day sheath clump (see Video S1 in the Supplemental Material.). Surprisingly, at the apex of the extending sheath filaments, a cleavage appeared (Figure 4A (a), yellow arrowhead) that truncated the apex, thus dissociating a short multicell-ensheathed fragment from the tip of the extending sheath filaments (Figure 4A (b,c)). After 10 min, another cleavage formed at the apex of the same filament (Figure 4A (d), blue arrowhead), dissociating another multicell-ensheathed fragment. Within 2 min, one more cleavage formed midway on the same filament (Figure 4A (e), red arrowhead), dissociating a longer (five cells or more) fragment. Since L/D staining demonstrated that almost all ensheathed cells of the 2-day culture were alive (Figure 4B), this fast, repeated dissociation of the short multicell-ensheathed fragment was not due to cell death. Thus, the majority of the moving fragments near the sheath clump periphery (Figure 1) could be produced by the existing sheath clumps at intervals from approximately 3 to 25 min. Considering that three multicell-ensheathed fragments dissociated from a single extending sheath filament within only 20 min (Figure 4A), an extraordinary number of the fragments could be released from a mass of extending sheath filaments in a single sheath clump within 1 h. As far as we know, these findings are the first that can account for the tremendously massive production of the Leptothrix sheaths in natural environments and/or in culture. However, the present study fails to provide numerical data on the sheath fragments. To obtain more persuadable data, we now need to quantify the number of the cells and sheath fragments generated in real time using a technique such as quantitative real-time PCR [18].