Pore size matters for potassium channel conductance
ABSTRACT
---
Ion channels are membrane proteins that mediate efficient ion transport across the hydrophobic core of cell membranes, an unlikely process in their absence. K+ channels discriminate K+ over cations with similar radii with extraordinary selectivity and display a wide diversity of ion transport rates, covering differences of two orders of magnitude in unitary conductance. The pore domains of large- and small-conductance K+ channels share a general architectural design comprising a conserved narrow selectivity filter, which forms intimate interactions with permeant ions, flanked by two wider vestibules toward the internal and external openings. In large-conductance K+ channels, the inner vestibule is wide, whereas in small-conductance channels it is narrow. Here we raise the idea that the physical dimensions of the hydrophobic internal vestibule limit ion transport in K+ channels, accounting for their diversity in unitary conductance.
No MeSH data available.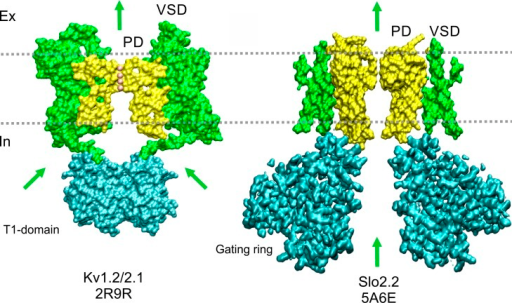 © Copyright Policy - openaccess
License 1 - License 2


getmorefigures.php?uid=PMC5037345&req=5

Mentions: There is one more problem with the estimation of the internal pore dimension based on the radius of capture for BK and Kv channels. These measurements disregard the contribution of important intracellular domains in both proteins, leading to an oversimplified structural image (Long et al., 2005a; Hite et al., 2015). Both BK and Kv channels have tetramerization domains near the internal entrance (Kobertz and Miller, 1999; Krishnamoorthy et al., 2005; Hite et al., 2015). In Kv channels, the four tetramerization domains (T1) form a structure known as "the hanging gondola" because it hangs from the pore domain through four linkers, leaving four side-facing openings for ion transport (Fig. 3; Kobertz and Miller, 1999; Long et al., 2007). Meanwhile, the structure of Slo2.2, a BK channel, shows the calcium-dependent gating ring forming a funnel structure that could guide ions into the pore cavity (Hite et al., 2015). Both structures project negative electrostatic potential into the permeation pathway, raising local K+ concentration, but contribute, at most, to 30% to the unitary current (Kobertz and Miller, 1999; Budelli et al., 2013; Hite et al., 2015).