Pore size matters for potassium channel conductance
ABSTRACT
---
Ion channels are membrane proteins that mediate efficient ion transport across the hydrophobic core of cell membranes, an unlikely process in their absence. K+ channels discriminate K+ over cations with similar radii with extraordinary selectivity and display a wide diversity of ion transport rates, covering differences of two orders of magnitude in unitary conductance. The pore domains of large- and small-conductance K+ channels share a general architectural design comprising a conserved narrow selectivity filter, which forms intimate interactions with permeant ions, flanked by two wider vestibules toward the internal and external openings. In large-conductance K+ channels, the inner vestibule is wide, whereas in small-conductance channels it is narrow. Here we raise the idea that the physical dimensions of the hydrophobic internal vestibule limit ion transport in K+ channels, accounting for their diversity in unitary conductance.
No MeSH data available.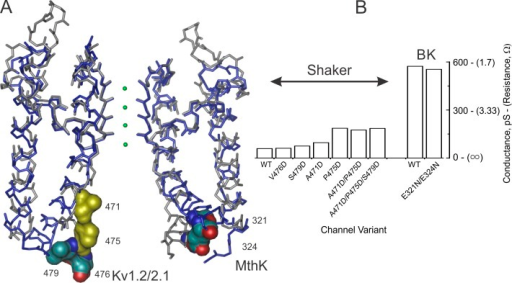 © Copyright Policy - openaccess
License 1 - License 2


getmorefigures.php?uid=PMC5037345&req=5

Mentions: BK channels (also known as Slo1 or Maxi-K) display the largest unitary conductance among K+ channels, ranging from ∼250 pS under standard recording conditions (100–150 mM K+) to 600 pS under saturating K+ concentrations (Eisenman et al., 1986; Brelidze et al., 2003). Sequence analysis of BK channels reveals two conserved glutamate rings (Glu rings) at the internal entrance, comprising Glu321 and Glu324 in each subunit of MSlo (Fig. 2 A). In 100 mM K+, these eight negatively charged residues double unitary conductance (Brelidze et al., 2003; Zhang et al., 2006). However, such increments vanish at saturating K+ concentration, indicating that the charged rings contribute to channel conductance by attracting cations and are not an essential part of the efficient K+ transport mechanism (Fig. 2 B). Therefore, maximum conductance, measured at saturating K+ concentrations, is required to separate permeation from binding (Díaz-Franulic et al., 2015; Sack and Tilley, 2015). In contrast, Phe380, located at the inner cavity of HSlo (F315 in MSlo), was shown to be critical for ion permeation when replacement with isoleucine or tyrosine decreased unitary conductance by ∼70% or ∼50%, respectively (Carrasquel-Ursulaez et al., 2015). However, the impact of these mutations on the maximum conductance is unknown.