Pore size matters for potassium channel conductance
ABSTRACT
---
Ion channels are membrane proteins that mediate efficient ion transport across the hydrophobic core of cell membranes, an unlikely process in their absence. K+ channels discriminate K+ over cations with similar radii with extraordinary selectivity and display a wide diversity of ion transport rates, covering differences of two orders of magnitude in unitary conductance. The pore domains of large- and small-conductance K+ channels share a general architectural design comprising a conserved narrow selectivity filter, which forms intimate interactions with permeant ions, flanked by two wider vestibules toward the internal and external openings. In large-conductance K+ channels, the inner vestibule is wide, whereas in small-conductance channels it is narrow. Here we raise the idea that the physical dimensions of the hydrophobic internal vestibule limit ion transport in K+ channels, accounting for their diversity in unitary conductance.
No MeSH data available.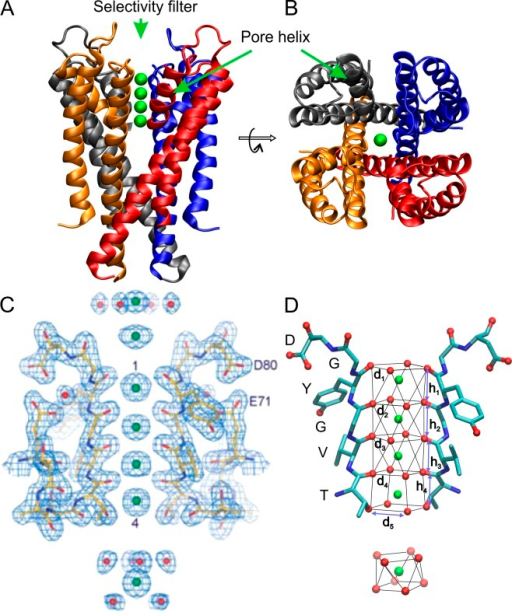 © Copyright Policy - openaccess
License 1 - License 2


getmorefigures.php?uid=PMC5037345&req=5

Mentions: The crystallographic structure of the KcsA bacterial K+ channel resolved at 3.2 Å by Doyle et al. (1998) revealed for the first time how the pore of a K+ channel looks (Fig. 1, A and B). The protein has a tetrameric organization around the pore placed in its axis of symmetry. Although the structure corresponded to that of a closed channel, it showed several, previously anticipated, functional features: (a) The pore hosts several K+ ions in single-file order as Hodgkin and Keynes predicted 60 years ago (Hodgkin and Keynes, 1955). (b) The pore has a narrow selectivity filter located toward the external entrance and is flanked internally by a wider internal vestibule as anticipated by Armstrong and Bezanilla (Armstrong, 1971; Bezanilla and Armstrong, 1972; Miller, 1982; Latorre and Miller, 1983). (c) K+ ions are partially hydrated in the narrow section of the pore, as Mullins, Bezanilla, and Armstrong proposed half a century ago (Mullins, 1959; Armstrong, 1971; Bezanilla and Armstrong, 1972; Hille, 1973). Although the structural analysis could not resolve interatomic bond orientation, it was hypothesized that carbonyl oxygens from the signature sequence in the peptide backbone, TVGYG, shape the anticipated low-field-strength K+ binding sites by forming surrogate hydration cages in the filter (Eisenman, 1962; Heginbotham et al., 1994). The presence of these expected features in a single crystallographic structure gave this study immediate acceptance.