The Ca 2+ -activated Cl − channel TMEM16B regulates action potential firing and axonal targeting in olfactory sensory neurons
ABSTRACT
---
TMEM16B is expressed in olfactory sensory neurons, but previous attempts to establish a physiological role in olfaction have been unsuccessful. Pietra et al. find that genetic ablation of TMEM16B results in defects in the olfactory behavior of mice and the cellular physiology of olfactory sensory neurons.
No MeSH data available.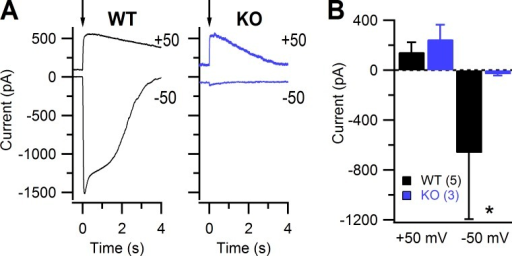 © Copyright Policy - openaccess
License 1 - License 2


getmorefigures.php?uid=PMC5037344&req=5

Mentions: Given the olfactory deficits we observed, we focused on comparing the electrophysiological properties of OSNs in the absence and in the presence of TMEM16B. First, similar to experiments previously reported for OSNs in tissue slices (Billig et al., 2011), we investigated Cl− currents in OSNs isolated from WT and TMEM16B KO mice using flash photolysis of caged 8-Br-cAMP combined with patch-clamp recordings, a technique we used extensively to characterize transduction currents in isolated OSNs (Boccaccio et al., 2006; Boccaccio and Menini, 2007). We used caged 8-Br-cAMP instead of caged cAMP because 8-Br-cAMP is a potent agonist of the olfactory CNG channel and therefore permits a more robust activation of the transduction cascade. We measured the whole-cell patch-clamp current evoked by photorelease of 8-Br-cAMP inside the cilia knob region of OSNs at various holding potentials (Fig. 2). At 50 mV, the current is mainly caused by the cationic efflux through CNG channels directly activated by 8-Br-cAMP. As little Ca2+ enters the cilia at 50 mV, only a small or negligible Cl− current and/or Ca2+-activated K+ currents were activated. In contrast, at −50 mV, the influx of Ca2+ through CNG channels activated a large secondary CaCC (Fig. 2 A). Previous work has shown that the secondary large current at −50 mV was blocked by NFA, indicating that it was a CaCC (see Fig. 6 in Boccaccio and Menini, 2007). OSNs from TMEM16B KO did not show the secondary large component at −50 mV, whereas they retained a similar outward current amplitude at 50 mV (Fig. 2 A). Indeed, mean values for current amplitudes in WT and KO neurons were significantly different at −50 mV (Mann-Whitney U test, 0.01 < P < 0.05) but not at 50 mV (Fig. 2 B). Thus, we confirmed that CaCCs are absent in isolated OSNs from TMEM16B KO mice as previously shown by flash photolysis of caged Ca2+ and caged 8-Br-cAMP (Billig et al., 2011). As stated previously (Billig et al., 2011), the small residual current in KO OSNs at −50 mV was likely caused by CNG cationic currents, further demonstrating that in isolated OSNs the transduction current is largely carried by CaCCs through TMEM16B channels (Billig et al., 2011).