Simultaneous imaging of local calcium and single sarcomere length in rat neonatal cardiomyocytes using yellow Cameleon-Nano140
ABSTRACT
---
Excitation–contraction coupling results in the shortening of many individual sarcomeres along the length of a muscle fiber. Tsukamoto and colleagues develop a technique to quantitatively analyze the dynamics of intracellular calcium transients and length changes at the single sarcomere level.
No MeSH data available.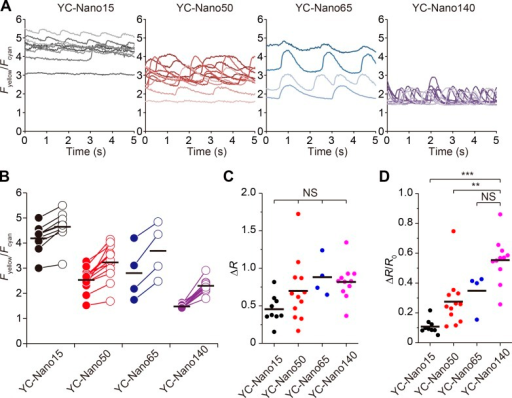 © Copyright Policy - openaccess
License 1 - License 2


getmorefigures.php?uid=PMC5037341&req=5

Mentions: Fig. 2 and Video 2 summarizes the time course of changes in Fyellow/Fcyan with various α-actinin–YC-Nanos expressed in cardiomyocytes. All α-actinin–YC-Nano constructs (i.e., YC-Nano15, YC-Nano50, YC-Nano65, and YC-Nano140 with Kd values of 15, 50, 65, and 140 nM, respectively) labeled Z disks within 24 h after transfection into cardiomyocytes and enabled detection of Fyellow/Fcyan changes during spontaneous beating (see individual traces of Fyellow/Fcyan in Fig. 2 A). α-Actinin–YC-Nano15 (α-actinin–YC-Nano140) exhibited the largest (smallest) values of minimal (R0) and maximal (Rmax) FRET signals, with 4.2 ± 0.6 (1.5 ± 0.1) and 4.6 ± 0.6 (2.3 ± 0.3), respectively (Fig. 2 B). The large R0 and Rmax values of α-actinin–YC-Nano15 (and the ensuing small ΔR [=Rmax − R0] and ΔR/R0 values) indicate that Ca2+ binding to α-actinin–YC-Nano15 is nearly saturated even during relaxation; hence, it is unsuitable for the analysis of EC coupling. Accordingly, the change in the FRET signal (ΔR) and the relative change of it (ΔR/R0) were smallest with α-actinin–YC-Nano15 (ΔR = 0.5 ± 0.2, ΔR/R0 = 0.1 ± 0.05) and largest with α-actinin–YC-Nano140 (ΔR = 0.8 ± 0.2, ΔR/R0 = 0.6 ± 0.2; Fig. 2, C and D). It should be noted that for nano-imaging of sarcomere dynamics simultaneous with local [Ca2+]i, high-precision tracings of both Fyellow and Fcyan from the Z disks are required. In other words, as a principle in the FRET analysis, the farther the Fyellow/Fcyan ratio is away from 1.0, the more difficult to detect the fluorescence of either cyan or yellow. Indeed, the weak cyan fluorescence of α-actinin–YC-Nano15 made it difficult to analyze the movements of individual sarcomeres from the cyan fluorescence image, even during relaxation. In contrast, α-actinin–YC-Nano140 provided sufficiently detectable fluorescence signals of both cyan and yellow (as in Fig. 1, D–F). Therefore, we concluded that of the α-actinin–YC-Nanos tested, α-actinin–YC-Nano140 was the best suited for the analysis of cardiac EC coupling at the single sarcomere level, and thus we used it in the following experimentations. Likewise, given the fact that ΔR/R0 can reveal distinct properties of FRET-based Ca2+ signals, at least in the present experimental settings, we used the parameter, rather than ΔR, throughout the present study.