Loss of Ikbkap Causes Slow, Progressive Retinal Degeneration in a Mouse Model of Familial Dysautonomia
ABSTRACT
---
Familial dysautonomia (FD) is an autosomal recessive congenital neuropathy that is caused by a mutation in the gene for inhibitor of kappa B kinase complex-associated protein (IKBKAP). Although FD patients suffer from multiple neuropathies, a major debilitation that affects their quality of life is progressive blindness. To determine the requirement for Ikbkap in the developing and adult retina, we generated Ikbkap conditional knockout (CKO) mice using a TUBA1a promoter-Cre (Tα1-Cre). In the retina, Tα1-Cre expression is detected predominantly in retinal ganglion cells (RGCs). At 6 months, significant loss of RGCs had occurred in the CKO retinas, with the greatest loss in the temporal retina, which is the same spatial phenotype observed in FD, Leber hereditary optic neuropathy, and dominant optic atrophy. Interestingly, the melanopsin-positive RGCs were resistant to degeneration. By 9 months, signs of photoreceptor degeneration were observed, which later progressed to panretinal degeneration, including RGC and photoreceptor loss, optic nerve thinning, Müller glial activation, and disruption of layers. Taking these results together, we conclude that although Ikbkap is not required for normal development of RGCs, its loss causes a slow, progressive RGC degeneration most severely in the temporal retina, which is later followed by indirect photoreceptor loss and complete retinal disorganization. This mouse model of FD is not only useful for identifying the mechanisms mediating retinal degeneration, but also provides a model system in which to attempt to test therapeutics that may mitigate the loss of vision in FD patients.
No MeSH data available.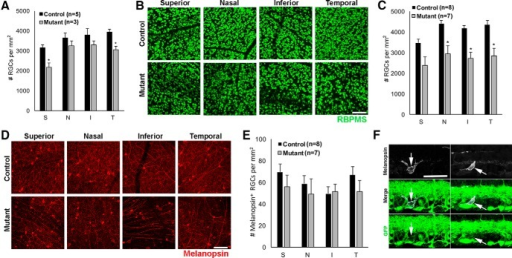 © Copyright Policy - open-access
License
getmorefigures.php?uid=PMC5037323&req=5
Mentions: Although many mature mouse RGCs (80%–85%) are known to be Brn3+ (Brn3a, Brn3b, and/or Brn3c) and Brn3 is an established nuclear marker for RGCs (Xiang et al., 1995; Nadal-Nicolas et al., 2009; Galindo-Romero et al., 2011), we also quantified the number of RBPMS+ RGCs, since the RBPMS antibody selectively and exclusively labels all RGCs (Rodriguez et al., 2014). We immunostained whole-mounted retinas at 6 and 9 months of age and counted RBPMS+ cells 1 mm from the optic nerve disk in the superior, nasal, inferior, and temporal retina. In 6-month mutant retinas, we observed a 20%–30% reduction in RGCs in the superior and temporal retina (p = 0.01 and 0.02, respectively; Fig. 7A). There was temporal-superior bias in total (RBPMS+) RGC loss, similar to Brn3+ RGC degeneration (Fig. 5). In 9-month mutant retinas, more widespread reduction (30%–35% decrease) in RGCs was observed; reduction in nasal, inferior, and temporal retinas were significant (p = 0.02, 0.03, and 0.02, respectively; Fig. 7B, C). RGC counts were highly variable between mutants at the same age, possibly because of variability in Cre penetrance. We also immunostained using antimelanopsin antibody (Fig. 7D), which is known to label M1–M3 subtypes of intrinsically photosensitive RGCs (ipRGCs). ipRGCs express the photopigment melanopsin and are photosensitive to light independently of rods and cones (Berson et al., 2002; Estevez et al., 2012). Interestingly, we did not observe a reduction in melanopsin+ RGC in either 6- or 9-month mutant retinas (Fig. 7E; 6-month data not shown). Cre reporter analysis showed that melanopsin+ ipRGCs were GFP+ at P10 (Fig. 7F), indicating Cre expression in this RGC subtype. In addition, our endogenous Ikbkap expression analysis of the retina at 1 month also showed that all the RGCs (RBPMS+) expressed Ikbkap (β-gal+; Fig. 1E). These results suggest that melanopsin+ RGCs are resistant to degeneration in the absence of Ikbkap.