Loss of Ikbkap Causes Slow, Progressive Retinal Degeneration in a Mouse Model of Familial Dysautonomia
ABSTRACT
---
Familial dysautonomia (FD) is an autosomal recessive congenital neuropathy that is caused by a mutation in the gene for inhibitor of kappa B kinase complex-associated protein (IKBKAP). Although FD patients suffer from multiple neuropathies, a major debilitation that affects their quality of life is progressive blindness. To determine the requirement for Ikbkap in the developing and adult retina, we generated Ikbkap conditional knockout (CKO) mice using a TUBA1a promoter-Cre (Tα1-Cre). In the retina, Tα1-Cre expression is detected predominantly in retinal ganglion cells (RGCs). At 6 months, significant loss of RGCs had occurred in the CKO retinas, with the greatest loss in the temporal retina, which is the same spatial phenotype observed in FD, Leber hereditary optic neuropathy, and dominant optic atrophy. Interestingly, the melanopsin-positive RGCs were resistant to degeneration. By 9 months, signs of photoreceptor degeneration were observed, which later progressed to panretinal degeneration, including RGC and photoreceptor loss, optic nerve thinning, Müller glial activation, and disruption of layers. Taking these results together, we conclude that although Ikbkap is not required for normal development of RGCs, its loss causes a slow, progressive RGC degeneration most severely in the temporal retina, which is later followed by indirect photoreceptor loss and complete retinal disorganization. This mouse model of FD is not only useful for identifying the mechanisms mediating retinal degeneration, but also provides a model system in which to attempt to test therapeutics that may mitigate the loss of vision in FD patients.
No MeSH data available.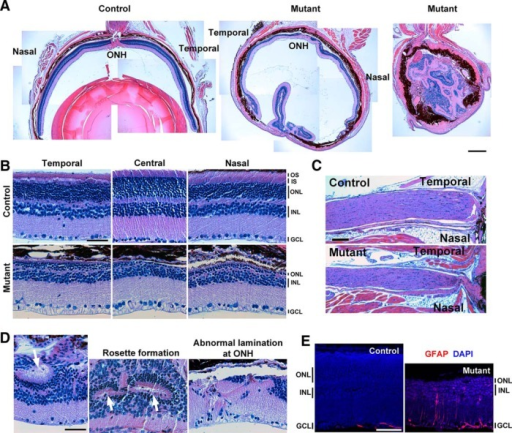 © Copyright Policy - open-access
License
getmorefigures.php?uid=PMC5037323&req=5
Mentions: Because Tα1-Cre is expressed in many postmitotic neurons throughout the central and peripheral nervous system, Ikbkap CKO mice die on average by 6 months of age owing to progressive central and peripheral neuropathy as observed in FD patients (Chaverra et al., unpublished observations). However, the phenotype is highly variable between CKOs, and some occasionally survive longer, which allowed us to analyze older CKO retinas. We assessed the overall retinal morphology of 19-month-old CKO retinas and optic nerves by H&E staining (Fig. 3). In general, mutant eyes were smaller, retinal layers were disrupted, and the lenses were often absent (Fig. 3A). Many eyes older than 14 months showed immune cells and debris in the vitreous (data not shown). Cross sections of 19-month-old mutant retinas showed obvious photoreceptor degeneration across the retina, with a thinner ONL and an absence of photoreceptor IS and outer segment (OS; Fig. 3B). Optic nerves of 19-month-old mutants were clearly thinner than those of their control littermates, an indication of RGC degeneration (Fig. 3C). In addition, mutant retina displayed rosette formation and dyslamination of retinal layers (Fig. 3D), as well as Müller glial activation (Fig. 3E), the hallmarks of retinal degeneration and stress. Whether all or some of these phenotypes were direct or indirect consequences of the loss of Ikbkap in RGCs has yet to be determined.