The Temporal Dynamics of Scene Processing: A Multifaceted EEG Investigation
ABSTRACT
---
Our remarkable ability to process complex visual scenes is supported by a network of scene-selective cortical regions. Despite growing knowledge about the scene representation in these regions, much less is known about the temporal dynamics with which these representations emerge. We conducted two experiments aimed at identifying and characterizing the earliest markers of scene-specific processing. In the first experiment, human participants viewed images of scenes, faces, and everyday objects while event-related potentials (ERPs) were recorded. We found that the first ERP component to evince a significantly stronger response to scenes than the other categories was the P2, peaking ∼220 ms after stimulus onset. To establish that the P2 component reflects scene-specific processing, in the second experiment, we recorded ERPs while the participants viewed diverse real-world scenes spanning the following three global scene properties: spatial expanse (open/closed), relative distance (near/far), and naturalness (man-made/natural). We found that P2 amplitude was sensitive to these scene properties at both the categorical level, distinguishing between open and closed natural scenes, as well as at the single-image level, reflecting both computationally derived scene statistics and behavioral ratings of naturalness and spatial expanse. Together, these results establish the P2 as an ERP marker for scene processing, and demonstrate that scene-specific global information is available in the neural response as early as 220 ms.
No MeSH data available.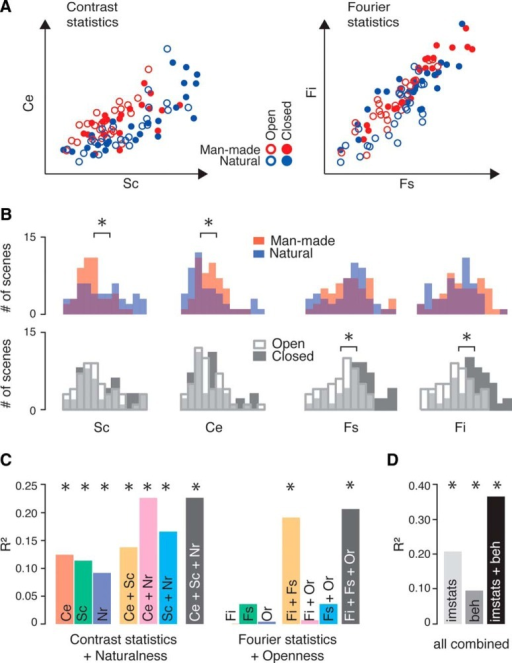 © Copyright Policy - open-access
License
getmorefigures.php?uid=PMC5037322&req=5
Mentions: Computational analysis of the 96 scenes based on spatial frequency and local contrast (see Materials and Methods) resulted in two pairs of image statistics parameters describing two "feature spaces" in which images clustered differentially by global property (Fig. 6A). Consistent with previous findings, man-made and natural scenes differed significantly in average contrast energy (Kolmogorov–Smirnov test: D = 0.29, p = 0.026)al and spatial coherence (D = 0.29, p = 0.026)al, but not in spatial frequency content (FI: D = 0.21, p = 0.220; FS: D = 0.125, p = 0.822; Fig. 6B) al. Open and closed scenes, on the other hand, differed in both FI (D = 0.44, p = 0.0002) al and FS (D = 0.42, p = 0.0003) al, but not in contrast energy or spatial coherence (D = 0.19, p = 0.33; D = 0.23, p = 0.14, respectively)al. No differences in image statistics were found for near versus far scenes (contrast energy: D = 0.13, p = 0.822; spatial coherence: D = 0.15, p = 0.65; FI: D = 0.19, p = 0.333; FS: D = 0.13, p = 0.822) al. This analysis demonstrates that the global diagnostic scene properties that we found to impact the ERPs at the categorical level can be mapped onto natural image statistics, thereby allowing the quantification of relative variation in this global information between individual scenes.