Tick-borne rickettsial pathogens in questing ticks, removed from humans and animals in Mexico
ABSTRACT
---
Tick-borne rickettsial diseases (TBRD) are commonly encountered in medical and veterinary clinical settings. The control of these diseases is difficult, requiring disruption of a complex transmission chain involving a vertebrate host and ticks. The geographical distribution of the diseases is related to distribution of the vector, which is an indicator of risk for the population. A total of 1,107 ticks were collected by tick dragging from forests, ecotourism parks and hosts at 101 sites in 22 of the 32 states of Mexico. Collected ticks were placed in 1.5 mL cryovials containing 70% ethanol and were identified to species. Ticks were pooled according to location/host of collection, date of collection, sex, and stage of development. A total of 51 ticks were assayed by polymerase chain reaction (PCR) to confirm species identification using morphological methods. A total of 477 pools of ticks were assayed using PCR techniques for selected tick-borne pathogens. Anaplasma phagocytophilum was the most commonly detected pathogen (45 pools), followed by, Ehrlichia (E.) canis (42), Rickettsia (R.) rickettsii (11), E. chaffeensis (8), and R. amblyommii (1). Rhipicephalus sanguineus was the tick most frequently positive for selected pathogens. Overall, our results indicate that potential tick vectors positive for rickettsial pathogens are distributed throughout the area surveyed in Mexico.
No MeSH data available.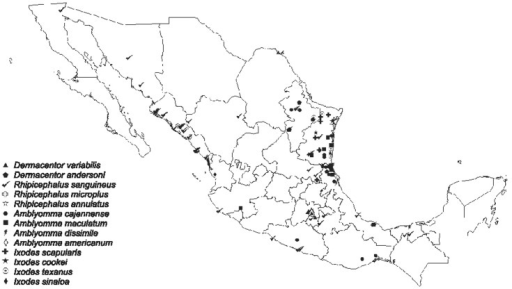 © Copyright Policy - open-access
License
getmorefigures.php?uid=PMC5037303&req=5
Mentions: A total of 1,107 ticks were collected 641 ticks from host, while 466 ticks were collected from forests, grass and herbaceous vegetation. The ticks on hosts were collected from nine humans (38 ticks), 148 domestic dogs (262), three deer (8), 183 mice (229), one turtle (6), four sheep (5), two goats (3), 11 cattle (83), two toads (3), three horses (4), and one rabbit (2). The 101 sites include national parks, ecotourism parks, and recreational sites distributed in 22 states of Mexico (Table 1). A total of 1,107 ticks, including 16 species belonging to six genera were collected (Table 2). Rhipicephalus sanguineus was the most frequently collected (43.4%), followed by Amblyomma cajennense (12.2%), Amblyomma maculatum (10.9%), R. microplus (9.0%), Amblyomma dissimile (6.1%), Ixodes (I.) texanus (1.3%), R. annulatus (2.0%), Amblyomma americanum (1.5%), Dermacentor (D.) nitens (1.8%), I. scapularis (1.5%), D. andersoni (1.3%), and Haemaphysalis (H.) leporispalustris (1.3%), while the remaining species only accounted for 1.4% (Fig. 1).