Crystal Structure of a Group I Energy Coupling Factor Vitamin Transporter S Component in Complex with Its Cognate Substrate
ABSTRACT
---
Energy coupling factor (ECF) transporters are responsible for the uptake of essential scarce nutrients in prokaryotes. This ATP-binding cassette transporter family comprises two subgroups that share a common architecture forming a tripartite membrane protein complex consisting of a translocation component and ATP hydrolyzing module and a substrate-capture (S) component. Here, we present the crystal structure of YkoE from Bacillus subtilis, the S component of the previously uncharacterized group I ECF transporter YkoEDC. Structural and biochemical analyses revealed the constituent residues of the thiamine-binding pocket as well as an unexpected mode of vitamin recognition. In addition, our experimental and bioinformatics data demonstrate major differences between YkoE and group II ECF transporters and indicate how group I vitamin transporter S components have diverged from other group I and group II ECF transporters.
No MeSH data available.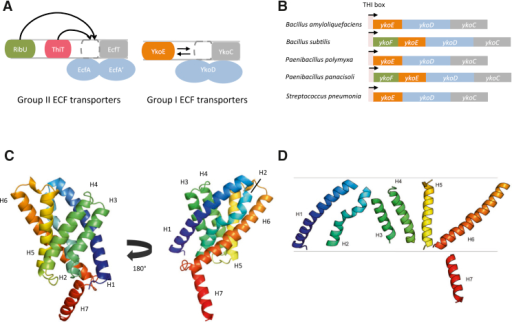 © Copyright Policy - CC BY
License
getmorefigures.php?uid=PMC5037267&req=5
Mentions: ECF modules can be classified into two distinct groups (Figure 1A). The best characterized are the group II ECF transporters, which share a common T component (EcfT) and NBD proteins (EcfA and A′) with different S components (EcfS), such as ThiT, RibU, BioY, and PanT, forming distinct interacting partners (Zhang et al., 2010, Erkens et al., 2011, Berntsson et al., 2012, Karpowich et al., 2015). Despite high structural similarity, group II S components share very low sequence similarity, with the most conserved motif being the residues interacting with the T component. The less characterized group I ECF transporters form a dedicated tripartite membrane protein complex wherein all the constitutive components are generally encoded together in one operon. The basic molecular organization of group I ECF transporters is similar to the group II ECF transporters. Moreover, mechanistic crosslinking and spectroscopic studies exist for the group I BioMNY complex (Neubauer et al., 2011, Finkenwirth et al., 2013, Finkenwirth et al., 2015). However, only one high-resolution structure of a group I S component is available to date. NikM, the S component of an ECF type nickel/cobalt transporter, contains an additional N-terminal transmembrane helix that is crucial to the coordination of the nickel or cobalt ion (Yu et al., 2014). It is currently unclear whether all group I S components contain common structural features and high-resolution structural details of their interaction with the T components are missing.