Advanced oxidation protein products sensitized the transient receptor potential vanilloid 1 via NADPH oxidase 1 and 4 to cause mechanical hyperalgesia
ABSTRACT
---
Oxidative stress is a possible pathogenesis of hyperalgesia. Advanced oxidation protein products (AOPPs), a new family of oxidized protein compounds, have been considered as a novel marker of oxidative stress. However, the role of AOPPs in the mechanism of hyperalgesia remains unknown. Our study aims to investigate whether AOPPs have an effect on hyperalgesia and the possible underlying mechanisms. To identify the AOPPs involved, we induced hyperalgesia in rats by injecting complete Freund's adjuvant (CFA) in hindpaw. The level of plasma AOPPs in CFA-induced rats was 1.6-fold in comparison with what in normal rats (P<0.05). After intravenous injection of AOPPs-modified rat serum albumin (AOPPs-RSA) in Sprague-Dawley rats, the paw mechanical thresholds, measured by the electronic von Frey system, significantly declined. Immunofluorescence staining indicated that AOPPs increased expressions of NADPH oxidase 1 (Nox1), NADPH oxidase 4 (Nox4), transient receptor potential vanilloid 1 (TRPV1) and calcitonin gene-related peptide (CGRP) in the dorsal root ganglia (DRG) tissues. In-vitro studies were performed on primary DRG neurons which were obtained from both thoracic and lumbar DRG of rats. Results indicated that AOPPs triggered reactive oxygen species (ROS) production in DRG neurons, which were significantly abolished by ROS scavenger N-acetyl-l-cysteine (NAC) and small-interfering RNA (siRNA) silencing of Nox1 or Nox4. The expressions of Nox1, Nox4, TRPV1 and CGRP were significantly increased in AOPPs-induced DRG neurons. And relevant siRNA or inhibitors notably suppressed the expressions of these proteins and the calcium influxes in AOPPs-induced DRG neurons. In conclusion, AOPPs increased significantly in CFA-induced hyperalgesia rats and they activated Nox1/Nox4-ROS to sensitize TRPV1-dependent Ca2+ influx and CGRP release which led to inducing mechanical hyperalgesia.
No MeSH data available.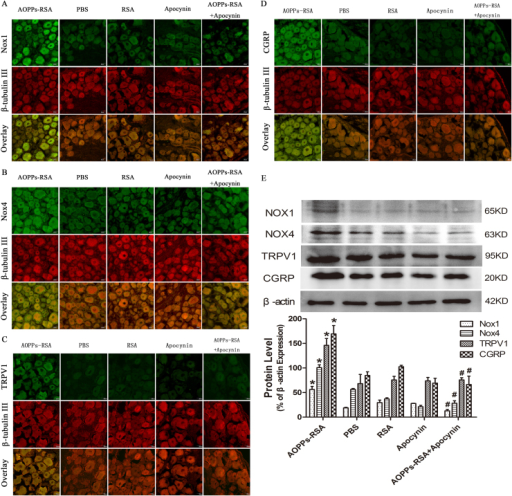 © Copyright Policy - CC BY-NC-ND
License
getmorefigures.php?uid=PMC5037245&req=5
Mentions: Immunoreactivity of anti-Nox1, anti-Nox2, anti-Nox4, anti-TRPV1, and anti-CGRP was observed in sections of rat DRG (L4-L6) neurons that were co-stained with the neuronal marker, β-tubulin III. Fig. 3A and B revealed that Nox1 and Nox4 were markedly increased in AOPPs-RSA group compared with that in PBS group, and apocynin partly inhibited AOPPs-induced Nox1 and Nox4 expression. As shown in Fig. 3C, expression of TRPV1 increased in AOPPs-RSA group, and apocynin also inhibited TRPV1 expression. Meanwhile, increasing expression of CGRP was observed in AOPPs-treated rats but not in rats of control group and the expression level was alleviated by apocynin (Fig. 3D). To confirm our results, we used Western blot assays to measure the expression level of Nox1, Nox4, TRPV1, and CGRP in DRG tissues (L4-L6) of AOPPs-treated rats. Fig. 3E indicated that the level of Nox1 significantly increased in AOPPs-RSA group. Meanwhile, the expression of Nox4 increased ~2-fold in AOPPs-RSA group, and its inhibitor, apocynin, reduced its expression level by almost 75%. The level of TRPV1 increased significantly ~2-fold in AOPPs-RSA group in comparison with that in the PBS group, and intragastric administration of apocynin efficiently reduced the expression of AOPPs-triggered TRPV1 by 50%. Furthermore, CGRP increased close to 2-fold in the AOPPs-RSA group compared with that in the PBS group, and were down-regulated by apocynin by approximately 60%. Notably, the expression of Nox2 which was tested by immunofluorescence staining or western blots had no significant difference between each group (Fig. S1)..